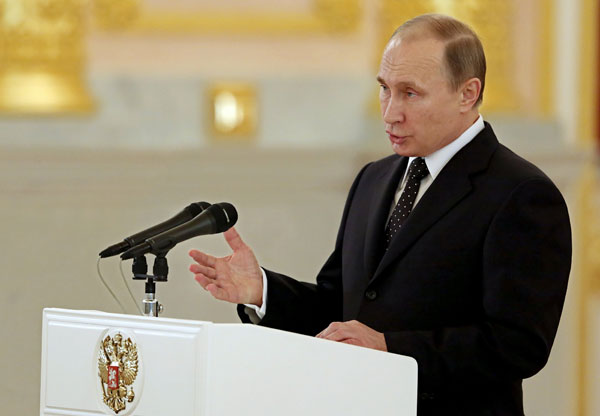 Russia's President Vladimir Putin delivers a speech during a ceremony to receive diplomatic credentials from foreign ambassadors at the Kremlin in Moscow, Russia, November 26, 2015.[Photo/Agencies]
MOSCOW - Russian President Vladimir Putin on Saturday signed a decree imposing economic sanctions against Turkey after Turkey shot down a Russian warplane near the Syrian-Turkish border Tuesday.
The presidential decree, which was posted at the website of the Kremlin, said a ban of charter flights from Russia to Turkey will be introduced, and Russian tourism operators should stop selling tour packages to Turkey.
The decree, which became effective immediately on the date of publication, was entitled "On measures to ensure Russia's national security and protect Russian citizens from criminal and other illegal activities and the application of special economic measures against Turkey."
In accordance with the decree, Turkish companies of transportation shall be restricted in their operations in Russian territories, with Turkish ships and boats being banned from staying at or navigating across Russian ports, while import of certain goods from Turkey will be halted.
The visa-free travel regime between Russia and Turkey is also formally suspended and Turkish citizens, except Turkish diplomats and their dependents and those with temporary permits of residence, are not allowed to enter Russia starting Jan. 1, 2016, according to the decree.
Russian employers are ordered not to extend contracts with Turkish nationals and will face restrictions in this regard.
Putin instructed Russian Foreign Ministry to inform the Turkish side of the contents of the decree and ordered the government to prepared a detailed list of goods, firms and jobs that would be impacted.
Russia's move came after Turkey shot down Russia's fighter jet Tuesday, with the latter claiming that the Russian warplane violated Turkish airspace, which Moscow vehemently denied and insisted the Su-24 fighter jet stayed over Syria during its flight.
Putin had warned that Turkey's downing of the Russian fighter jet would have serious consequences for bilateral ties. Moscow had vowed to take measures in response to Turkey's downing of the Russian warplane.
Putin on Thursday demanded an apology from the Turkish leadership and a compensation for the damage, while Russian Prime Minister Dmitry Medvedev ordered the relevant government departments to prepare the draft of possible economic sanctions against Turkey.
Earlier on Saturday, Turkish Foreign Ministry issued a travel warning, urging Turkish nationals to postpone their visits to Russia unless absolutely necessary, while Turkish President Recep Tayyip Erdogan voiced regret over the incident, saying his country was "truly saddened" by the incident and wished it hadn't occurred.