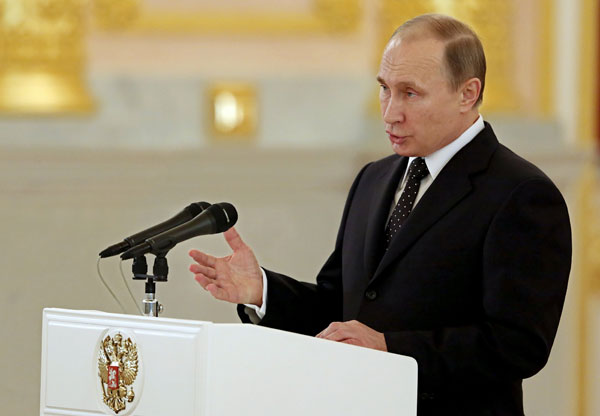 Russia's President Vladimir Putin delivers a speech during a ceremony to receive diplomatic credentials from foreign ambassadors at the Kremlin in Moscow, Russia, November 26, 2015.[Photo/Agencies]
MOSCOW -- Russia is expecting from Turkey a high level apology and compensation for the damage caused by Tuesday's downing of a Su-24 aircraft, and is considering retaliatory economic sanctions, the country's leaders said Thursday.
"We have not yet received any clear apology from Turkey's high political level, nor any proposal to compensate the harm and damage or promises to punish perpetrators of the crime," Russian President Vladimir Putin said at a ceremony of the presentation of credentials by new foreign ambassadors.
Putin slammed the Turkish leadership for deliberately steering the Russia-Turkey ties into the dead end, which he said was "regrettable."
He said that Moscow considered the downing a "treacherous stab in the back", saying the act contradicted common sense and violated international law.
Russian Prime Minister Dmitry Medvedev called the downing of the Russian warplane an "act of aggression," and instructed the government to prepare possible economic sanctions against Turkey within two days.
"Government departments have been asked to formulate a series of measures to respond to this act of aggression," Medvedev told a government meeting Thursday.
Under Russian legislation, Medvedev said, restrictions could involve suspension of economic cooperation programs, limitations of financial transactions including foreign trade and export and import duties, cutting tourism and circulation of aircraft and vessels, as well as humanitarian contacts and employment of foreign citizens.
He suggested freezing or curtailing some investment projects involving Turkish companies and canceling negotiations on an agreement granting preferential treatment to Turkey.
Restrictions should be imposed and remain in place until there is an improvement in the bilateral relations, Medvedev added.