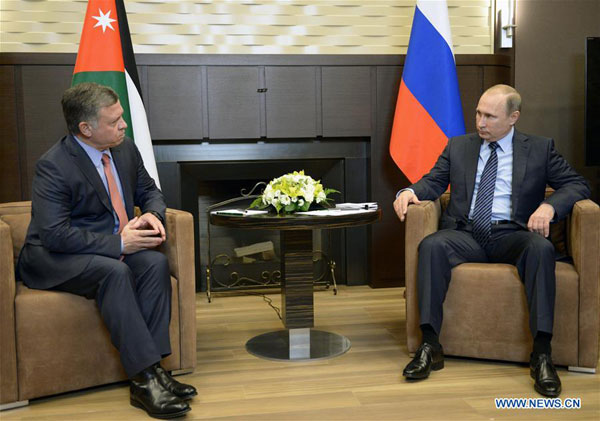 Russian President Vladimir Putin (R) meets with King Abdullah II of Jordan in Russia's Sochi on Nov. 24, 2015.[Photo/Xinhua]
SOCHI, Russia - President Vladimir Putin called Turkey's downing of a Russian fighter jet "a stab in the back", saying the incident would have serious consequences for Moscow's relations with Ankara.
"When attacked in the air, the plane was flying at an altitude of 6,000 meters, one kilometer away from the Turkish territory," Putin said as he met with King Abdullah II of Jordan in Russia's Sochi.
He said that the plane was shot down by an air-to-air missile launched by a Turkish F-16 jet in the Syrian airspace and the Su-24 fell in Syria 4km away from the Turkish border.
Putin said Russian pilots and planes had in no way threatened Turkey, but had merely been carrying out their duty to fight Islamic State militants inside Syria.
"This event goes beyond the boundaries of fighting terrorism. It is a stab in the back from accomplices of terrorists," Putin said, according to live broadcast by Russian 24 TV channel.
Putin said that the incident would have serious consequences in the Moscow-Ankara relations as "Russia would not tolerate crimes like what happened today."
"We have always regarded Turkey not only as a close neighbor, but also a friendly state. I don't know who needed today's incident to happen, but Russia didn't need it in any case," said Putin.
The president promised to carefully analyze everything that has happened, criticizing Ankara for contacting NATO instead of establishing necessary communication with Russia immediately.
"As if it were us shooting down a Turkish plane and not vice versa," said Putin.
Noting that Moscow had recorded oil supplies to Turkey from Syrian areas captured by terrorists, Putin reiterated the urgent need of a united international community against the "common evil" of terrorism.
"We hope very much for all countries in the region to actively participate in the joint anti-terrorist fight," Putin said when praising the "constant contact" with Jordan on anti-terrorist issues.