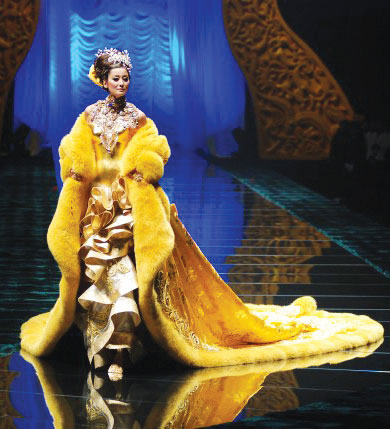 The bright yellow cape that Rihanna wore at the Met Gala is on display at the Bowers Museum in Santa Ana, California, through Jan 3 in an effort to promote the art and craftsmanship of Chinese haute couture. Provided to China Daily
Museum goers in California are getting the chance to get a closer look at the "giant yellow cape" that Rihanna wore at last May's Met Gala.
The fur-trimmed cape with a 2.5-meter-long train and exquisite embroidery of floral patterns instantly captured the public's attention, and so did its designer Guo Pei, a Beijing-based couturier.
Guo brought the cape along with 30 other dresses to Bowers Museum, in Santa Ana, California, with the aim of promoting the knowledge and art of Chinese haute couture among US audiences. The cape will be on display until Jan 3.
Guo said quite a number of museums and universities reached out to her and expressed interest in exhibiting the cape after the Met Gala. She chose the Bowers Museum because so many Chinese Americans live in the greater Los Angeles area and she hoped that they can help promote Chinese culture with local mainstream society.
"The splendor (of the yellow cape) can be easily felt even from a distance, but the art of haute couture is not only measured by its design but also by its craft," said Guo. "To some extent, the craftsmanship is even more important for a designer to make his or her ideas a reality."
The cape is one of the 16 works from her 2010 collection which took her team 30 months to complete. "The material production alone took five months," she said. "Most of the time was devoted to embroidery which was hand-made with gold threads."
"I hope the audience can view the dress with their own eyes close up so that they can appreciate the exquisiteness of the layered embroidery," she said.
On the sidelines of the exhibit, Guo also gave a lecture on her 29-year experience as courier in China. "I hope the American people can learn about China from a different perspective through my designs," she said. "It is my responsibility to help the world better understand China's traditions and its present."
A fashion show was held on Saturday at the museum, showing the 30 dresses of her "blue and white porcelain" collection.
"The world began learning about China from its porcelain and the blue and white porcelain is the most famous of its kind," she said. "I think foreign audiences can naturally resonate with Chinese culture through this."
The private fashion show also was expected to raise funds to support the museum's educational programs, such as an Asian civilization exhibition for students and Chinese art classes for seniors, according to the museum.
liazhu@chinadailyusa.com