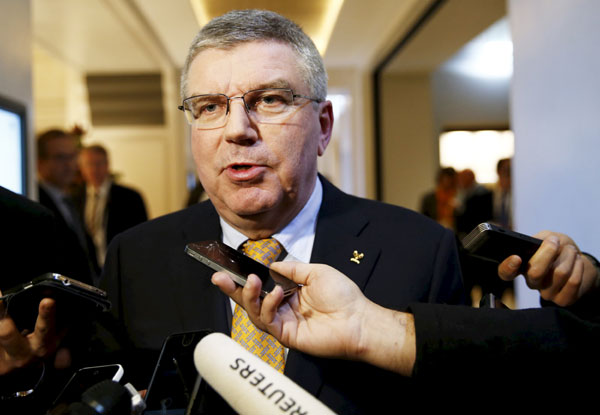 International Olympic Committee (IOC) President Thomas Bach makes a statement about the WADA inquiry on doping in Russia during a break of the SportAccord Convention in Lausanne, Switzerland, November 11, 2015. [Photo/Agencies]
MOSCOW - Russian Olympic Committee (ROC) said Monday that the structure of the country's Athletics Federation would be reformed as soon as possible.
"The main task is to make it possible for our athletes to participate in the 2016 Olympic Games," ROC president Alexander Zhukov said.
According to Zhukov, a memorandum was signed after his meeting with International Olympic Committee (IOC) president Thomas Bach.
The agreement urged the Russian side to take necessary measures in order to qualify Russian athletes for 2016 Olympic Games.
"First, we should significantly renew the structure of Russian Athletics Federation; second, it is necessary to bring the activities of our anti-doping services in line with the code of World Anti-Doping Agency (WADA)," Zhukov said.
He stressed that urgent measures would be taken to meet requirements of the WADA and to ensure the further function of Russian Anti-Doping Agency.
"I am sure that the implementation of these measures will enable our athletes to get down to international competitions," Tass news agency quoted Zhukov as saying.
Last Monday, a commission of the WADA published a report accusing Russia of violations of global anti-doping codes and recommended the country be banned from international athletics, including the 2016 Olympics.
The International Association of Athletics Federations has voted almost unanimously on Friday to suspend Russia's qualification.