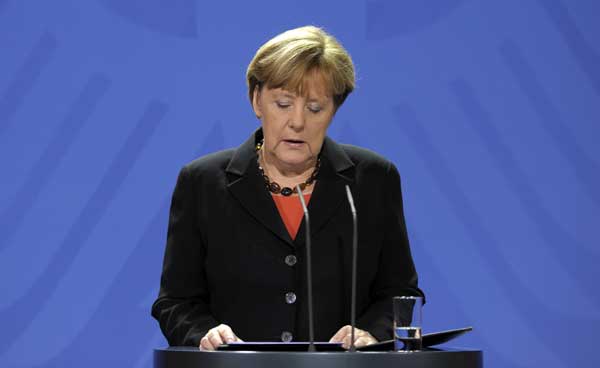 German Chancellor Angela Merkel gives a statement in Berlin, Germany, November 10, 2015 on the death of former West German Chancellor Helmut Schmidt. [Photo/Agencies]
In a coordinated action, Palestinian militants seized a Lufthansa passenger jet flying to Frankfurt. Under Schmidt's orders, German police commandos stormed the plane on the tarmac in Mogadishu, Somalia, and freed the hostages. Three of the imprisoned guerrillas, including RAF leaders Andreas Baader and Gudrun Ensslin, died that night in apparent suicides.
Schmidt's refusal to give in to the group's demands was greeted ecstatically at home and marked a turning point in the RAF campaign which continued but never with the same potency.
It cemented his reputation as a determined and tough-minded leader and boosted the country's international standing.
In 1979, Bonn gained international recognition to match its economic power when Schmidt was invited to join a summit of the leaders of the United States, France and Britain.
His years in office also saw the first steps towards the birth of a single European currency with the creation of the European Monetary System (EMS) in 1979, an initiative from Schmidt and then French President Valery Giscard d'Estaing.
The EMS, which linked European currencies for the first time, was a precursor to the euro.