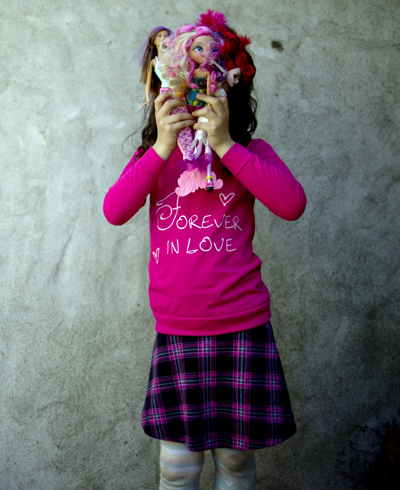 Luana poses with dolls at her home in Merlo, Argentina. When Luana, who was born as a boy, was 3, a team of psychologists and doctors prescribed a regimen of male reinforcement. However, Luana now lives as a girl. [Photo/Agencies]
Luana grabs her sparkly blue dress with one hand and spins, using her other hand as a guide while a strand of tulle floats around her body.
The 8-year-old has long brown curls, gold butterfly earrings and an amulet with a princess hanging from her neck.
Luana had to fight to be a girl. She was born a boy, and struggled with a world that insisted that was what she must be. Then, in 2013, she became the youngest person to take advantage of an Argentine law that allows people to identify their own gender for legal purposes.
The case turned the child into an international symbol of progress in the transgender community. At the same time, it sparked a debate in this conservative, Catholic country-the homeland of Pope Francis-about how best to raise children who identify themselves with the opposite sex.
But that discussion-one that has become more and more common around the world-feels very distant from the family's home in Merlo, a small town 43 kilometers west of Buenos Aires.
"I've always been a girl," said Luana, flashing a smile at her identical twin brother, Elias, the kind of boy who loves remote-controlled cars. He nods.
"If you gave Luana all my toys it would not make any difference," Elias said. "She still wouldn't be a boy."
Gabriela Mansilla, Luana's mother, said there were always clear differences in her twins. Manuel, Luana's birth name, wore shirts on his head, apparently imitating long hair. He liked dolls. Princesses and mermaids were his favorite movie characters.
Among his first words, according to his mother: "I girl."
In those first years, slight differences can be seen in pictures of the boys. They are often dressed in identical outfits, but Manuel's gaze is softer, his head more tilted.
By the time he was 2, Manuel was rejecting pants and insisting on wearing dresses. The struggles were so exhausting that sometimes Mansilla simply consented.
"People in the neighborhood would call me 'the crazy lady who dresses up her kid'," said Mansilla, 41.
When the boys were 3, a team of psychologists and doctors prescribed a regimen of "male reinforcement" for Manuel. He would be allowed to play only with male toys like action figures and wear boys' clothes. The color pink was prohibited, as were cartoons with female protagonists.
While there is widespread agreement in medical circles that some children are simply born with such tendencies, there is little consensus on the best way to deal with the behavior.
Sabrina Gabrielle Melo Bolke, an Argentine transgender woman who has befriended the family, said she has warned Luana that she will have to make tough choices about hormone therapy when she is a teenager, and ultimately whether to have a sex change.