After a three year hiatus, the 6th China-Japan-ROK trilateral summit will be held in Seoul, the Republic of Korea. Chinese Premier Li Keqiang, Japanese Prime Minister Shinzo Abe, and Republic of Korea President Park Geun-hye will host a series of talks on various issues to deepen trilateral cooperation. The previous summits were held annually from 2008 to 2012.
The 5th trilateral meeting
Beijing, China,
May 13-14, 2012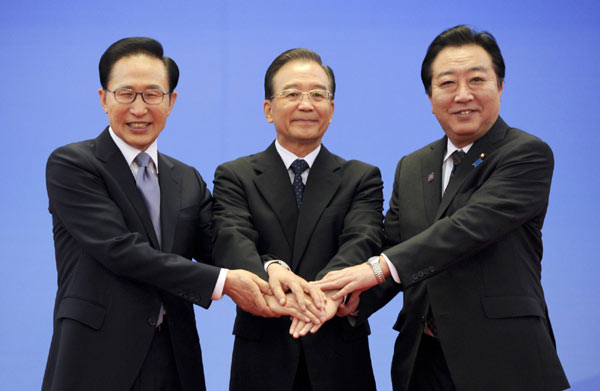 Then President of the Republic of Korea Lee Myung-bak (left), then Premier Wen Jiabao (center), and then Japanese Prime Minister Yoshihiko Noda (right) pose for a group photo during the 5th China-Japan-ROK trilateral summit at the Great Hall of the People in Beijing, May 13, 2012. [Photo/Xinhua]
The summit issued the Joint Declaration on the Enhancement of Trilateral Comprehensive Cooperative Partnership, and injected new vitality into the trilateral cooperation in both its depth and width by promoting enhanced mutual political trust, deeper economic and trade cooperation, the promotion of sustainable development, the expanding of social, people-to-people and cultural exchanges, and the strength of coordinating and cooperation over major regional and international issues.
The three countries agreed to begin talks on a free-trade agreement within the year, and to immediately initiate domestic procedures.