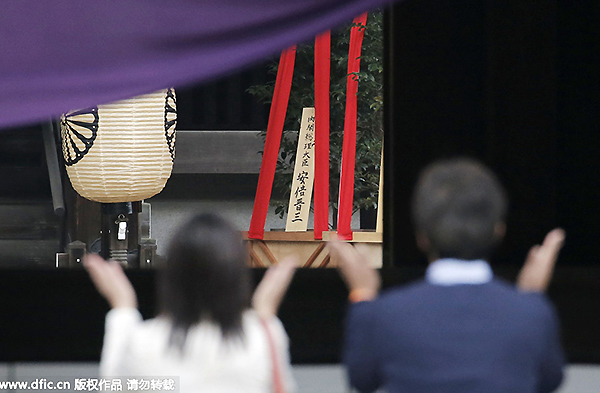 A ritual offering sent by Japanese Prime Minister Shinzo is placed on the Yasukuni Shrine, which honors millions of war dead as well as 14 convicted Class-A war criminals. [Photo/IC]
Japanese Prime Minister Shinzo Abe sent a ritual offering to the notorious Yasukuni Shrine on Saturday morning as it kicked off a four-day annual autumn festival.
The move comes as China and South Korea, who both have bitter memories of their neighbour's military past, and Japan are arranging a trilateral summit in early November in Seoul, the first leaders' meeting since May 2012.
Abe sent a "masakaki" ceremonial tree to the war-linked shrine which honors millions of war dead as well as 14 convicted Class-A war criminals, Kyodo News agency reported. By not visiting the shrine in person Abe appears to be hoping to avoid derailing the thaw in ties.
However, it is still deemed provocative as the shrine, which lies in central Tokyo, has been as source of diplomatic friction between Japan and several of its Asian neighbors.
Abe visited the controversial shrine in December 2013 at the first anniversary after he took office. The visit drew immediate rebukes from China and South Korea, which suffered from Japanese wartime brutality before and during World II.

On Thursday, Japanese media said Abe invited Chinese President Xi Jinping to visit Japan around spring next year, via a letter delivered by the head of the junior party in Japan's ruling coalition.
Beijing has not yet made any comments on the invitation.
Abe has not had a one-on-one summit with South Korean President Geun-hye since taking office in December 2012.

Park said on Thursday that she hoped the upcoming three-way summit would help clear obstacles to better relations with Tokyo and boost stability in Northeast Asia and said she was open to a bilateral meeting with Abe.

But she stressed the importance of progress on the issue of "comfort women", as those forced to work in Japan's wartime military brothels are euphemistically known in Japan.

South Korea says Japan has not done enough to atone for the suffering of the women, many Korean, despite a 1993 apology by Tokyo.