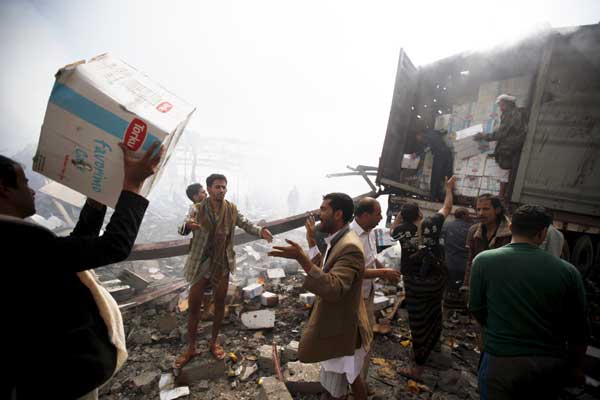 People move boxes of cake from a damaged truck outside a food storage warehouse hit by a Saudi-led air strike in Yemen's capital Sanaa October 25, 2015. [Photo/Agencies]
UNITED NATIONS - Saudi Arabia would like to see a ceasefire in Yemen to allow for the delivery of humanitarian aid, but it does not trust the Houthi rebels to abide by such a truce, the head of a Saudi center that coordinates humanitarian assistance for Yemen said on Monday.
The Iranian-allied Houthis and forces loyal to former Yemen President Ali Abdullah Saleh seized the capital, Sanaa, a year ago. The Saudi-led coalition began bombing them in March in a bid to restore President Abd-Rabbu Mansour Hadi's authority.
"From our previous experience the ceasefire was not acknowledged and it was violated," Abdullah Al-Rabeeah, general supervisor of the five-month-old King Salman Humanitarian Aid and Relief Centre, told reporters. "If there is a ceasefire it has to be a realistic ceasefire."
Several attempts at a humanitarian truce have failed with the warring parties blaming each other for violations.
The United Nations has designated Yemen as one of its highest-level humanitarian crises, alongside emergencies in South Sudan, Syria and Iraq. It says more than 21 million people in Yemen need help, or about 80 percent of the population.
Yemen relies on imports, but shipments to the Arabian Peninsula state have slowed to a trickle with aid groups blaming a near-total blockade by the Arab coalition, which is inspecting vessels in a bid to thwart arms deliveries to the Houthis.
A US Navy report said earlier this month that the coalition was slowing aid delivery by warning commercial vessels to stay away from areas hit by fighting, an accusation the coalition denied.