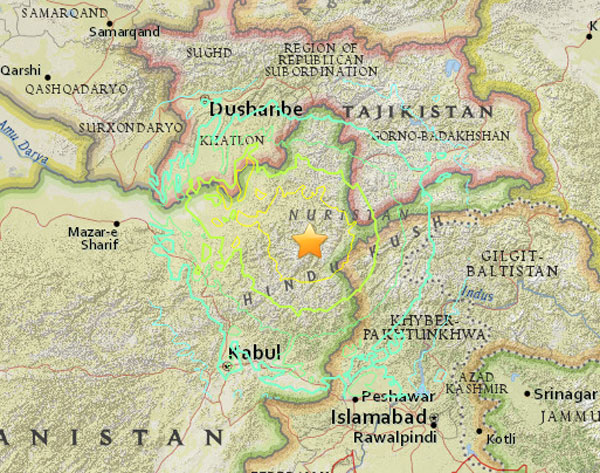 A screenshot of a map on earthquake.usgs.gov shows the epicenter of a M 7.5 earthquake near the Hindu Kush region of Afghanistan.
KABUL/PESHAWAR, Pakistan - A major earthquake struck the remote Afghan northeast on Monday, killing more than 280 people in Afghanistan and nearby northern Pakistan, injuring hundreds and sending shock waves as far as New Delhi, officials said.
The death toll could climb in coming days because communications were down in much of the rugged Hindu Kush mountain range where the quake was centred.
In one of the worst incidents, at least 12 girls were killed in a stampede to flee their school building in Taloqan, just west of Badakhshan province where the tremor's epicentre was located.
"They fell under the feet of other students," said Abdul Razaq Zinda, provincial head of the Afghan National Disaster Management Agency, who reported heavy damage in Takhar.
Shockwaves were felt in New Delhi in northern India and across northern Pakistan, where hundreds of people ran out of buildings as the ground rolled beneath them. No deaths were reported in India.
The quake was 213 km (132 miles) deep and centred 254 km (158 miles) northeast of Kabul in Badakhshan province.
The US Geological Survey initially measured the magnitude at 7.7, then revised it down to 7.5.
Casulties and Damages in Afghanistan
In Afghanistan, where rescue and relief work is likely to be complicated by security threats created by an escalating Taliban insurgency, at least 52 people were reported dead in several provinces.
In addition to the 12 schoolgirls in Takhar, officials said seven people died in the eastern province of Nangarhar, two in Nuristan province in the northeast, 22 in eastern Kunar province and nine in Badakhshan, where hundreds were killed in mudslides last year.
Hundreds of houses were also destroyed, creating additional hardship, with cold weather setting in.
Remote Areas Cut Off
In Afghanistan, international aid agencies working in northern areas reported that cell phone coverage in the affected areas remained down in the hours after the initial quake.
"The problem is we just don't know. A lot of the phone lines are still down," said Scott Anderson, deputy head of office for the UN Office for the Coordination of Humanitarian Affairs in Kabul.
Badakhshan provincial governor Shah Waliullah Adib said about 1,450 houses had been destroyed.