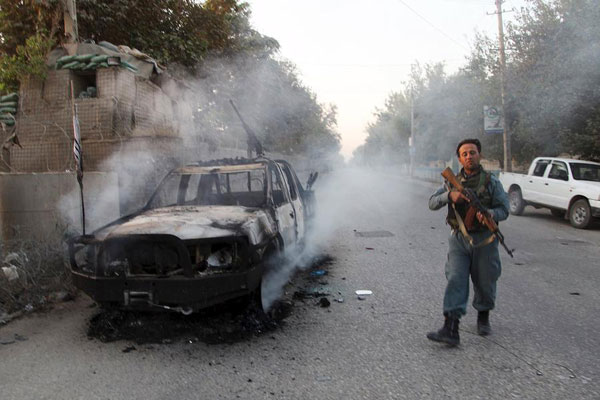 An Afghan policeman patrols next to a burning vehicle in the city of Kunduz, Afghanistan October 1, 2015. [Photo/Agencies]
KABUL -- Taliban militants overran Khawja Ghar district in Afghanistan's Takhar province with Taluqan as its capital 245 km north of Kabul on Thursday, local media reported.
Quoting a member of Takhar Provincial Council, Mawlawi Hussain Hanif, Tolo television reported that the Taliban militants launched massive offensive early Thursday and captured Khawja Ghar district in Kunduz's neighboring Takhar province.
Taliban militants who are engaged in heavy fighting with government troops for the control of Kunduz have also claimed capturing Khawja Ghar district in the neighboring Takhar province.
However, Takhar police chief Noor Mohammad Hakimi in talks with media rejected the fall of Khawja Ghar district to the Taliban militants, saying security forces have beaten back Taliban fighters in the district.
Taliban militants, who captured Kunduz city the capital of Kunduz province on Monday, according to security officials, have been evicted from Kunduz city on Thursday following launching counter-offensive by government forces late Wednesday night.
More than 100 of Taliban fighters have been killed and score others injured; while cleanup operation has been continuing in Kunduz city to return peace there, security officials said.