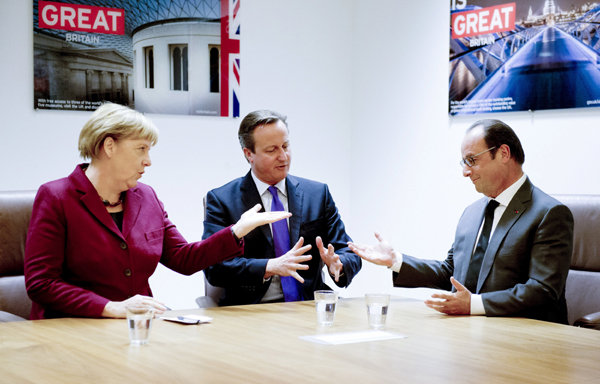 German Chancellor Angela Merkel (L), British Prime Minister David Cameron (C) and French President Francois Hollande (R) take part in a meeting at a European Union leaders summit in Brussels October 15, 2015. [Photo/Agencies]
BRUSSELS - The European Union (EU) leaders agreed on further steps to tackle the "pressing" migration and refugee crisis, following a one-day summit which ended early Friday.
"Tackling the migration and refugee crisis is a common obligation which requires a comprehensive strategy and a determined effort over time in a spirit of solidarity and responsibility," the EU leaders said in a statement released after the summit.
The EU leaders welcomed the EU-Turkey joint Action Plan for tackling the current refugee crisis, saying its "successful implementation will contribute to accelerating the fulfillment of the visa liberalization roadmap towards all participating member states and the full implementation of the readmission agreement."
They stressed that the EU and its member states "stand ready to increase cooperation with Turkey and step up their political and financial engagement substantially within the established framework."
The EU leaders called for strengthening the protection of the EU's external borders, including the establishment of an integrated management system for external borders.
The development of a European Border and Coast Guard System in cooperation with relevant member states was under discussion.
Concerning response to the influx of refugees in Europe, the leaders agreed to ensure the identification, registration, fingerprinting and reception of applicants for international protection and other migrants, as well as their relocations and resettlements.
They also agreed to create a dedicated return office within EU border agency Frontex in order to scale up support to EU member states before the end of the year.
They also agreed to enlarge the Frontex mandate on return to include the right to organize joint return operations on its own initiative, and enhance its role in the acquisition of travel documents for returnees.
European Council President Donald Tusk expressed "cautious optimism" after the summit, saying "tonight leaders took important decisions that will help secure the Union's external borders."
EU heads of state or government gathered in Brussels on Thursday for their third regular summit of this year.