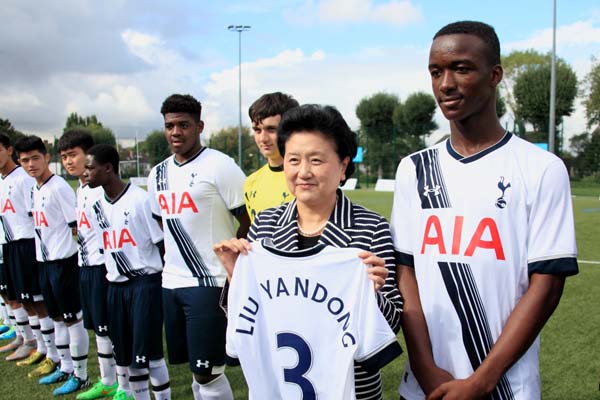 Liu Yandong poses with young players of the UK-China youth football friendly. [Photo by Jiang Shan/China Daily]
China representatives seek tips on developing sport at home multimedia-container
There is huge potential and complementarity for China and Britain to cooperate on soccer, Vice-Premier Liu Yandong said in London on Friday.
"Britain has a rich soccer culture and history, and a mature professional league, while China has an enormous soccer fan population and market," Liu said at the China-UK Football Development Forum at Capital City Academy in London.
As the first government-backed exchange event on the development of the sport, the forum was aimed at helping improve Chinese soccer through communication between the two sides.
"Strengthening cooperation on soccer between China and the UK has a historical origin and realistic needs as well," Liu said.
As China vigorously promotes soccer reform, it wants to learn from strong teams as are found in the UK.
"From our basis in China's conditions, we want to learn from the advanced experiences from the world," Liu said, adding that China will develop professional and youth soccer.
China has further pushed forward the development of soccer talent with the Ministry of Education planning to have 20,000 primary or middle schools with specialized soccer programs by 2020, Liu said.
During the third China-UK high level people-to-people dialogue, China and Britain signed a partnership plan called "China-UK youth football future star", which is the first cooperation plan between China and countries with well-developed soccer traditions since China launched a program of domestic soccer reform.
The partnership is expected to train more excellent Chinese soccer talents and enhance the understanding and friendship between the two countries.
Soccer insiders said that as the China-UK relationship is entering a "golden age", cooperation in the sport will become a new highlight of their cultural exchanges and also advance their friendship.