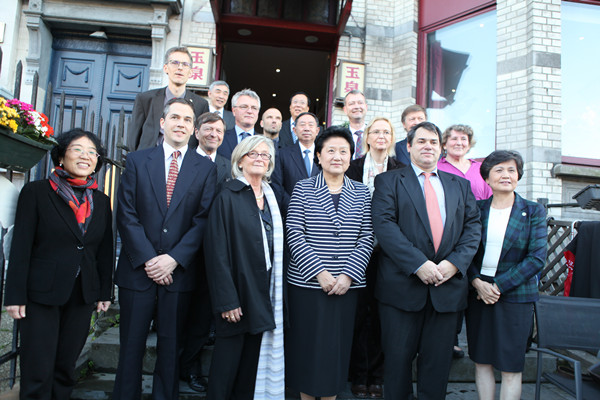 Vice-Premier had dinner meeting with ten directors of European Confucius institutes on Monday in Brussels before the people-to-people dialogues with her European counterparts. [Photo by Fu Jing/ China Daily]
The government has planned to boost the number of foreign students in China to 500,000 by the end of 2020, up from the current number of 360,000, said visiting Vice-Premier Liu Yandong in Brussels.
"This means that we are going to increase the number of foreign students in China by around 150,000 in the coming five years," Liu told a group of senior sinologists at a dinner discussion in Brussels on Monday.
"We will open our door wider and wider, offering accesses for foreign youths to learn and understand China."
Liu arrived in Brussels on Monday, kicking off one-week people-to-people exchanges in Belgium, the European Union headquarters, and the United Kingdom. She will leave for London on Wednesday.