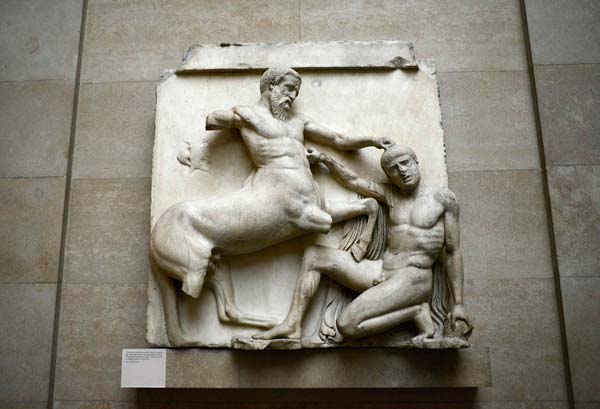 The centaur tramples a fallen lapith, part of a collection of stone objects, inscriptions and sculptures, known as the Elgin Marbles, on show at the Parthenon Marbles' hall at the British Museum in London in this October 16, 2014 file photo.[Photo/Agencies]
British museums, galleries and theatres are involved in a project to send art treasures and Shakespearian theatre productions to China as part of the China-UK Year of Cultural Exchange, according to the Times Newspaper.
Senior officials from the British Museum, the Tate Gallery, the Victoria and Albert Museum, the Globe Theatre, the Royal Shakespeare Company and the Royal Opera House will be in Beijing on Sunday when the project is announced.
George Osborne, Britain's Chancellor of the Exchequer, is due to visit China this month and the Times said it wasn't clear if he would be directly involved in the announcement.
The newspaper said the project had been helped by funding of as much as 1.3 million pounds by the UK and Chinese governments, although Treasury officials in London wouldn't comment.
The British Museum has a touring show called "The History of the World in 100 Objects" and has already been exhibited in Dubai. It will go on show in Kobe, Japan before heading for China.
The Globe Theatre, an exact reproduction of a theatre from Shakespeare's time in the 16th and 17th centuries, is sending its production of the Merchant of Venice, one of the dramatist's best known plays, to be performed in China.
The Royal Shakespeare Company was last year given a 1.5 million pounds government grant to translate Shakespeare's complete works into Mandarin, and a further 300,000 pounds to allow it to tour China next year.
Also expected at Sunday's press conference is an announcement of a joint project involving the Royal Opera House and a Chinese institution. The ROH already has links to Beijing's National Centre for Performing Arts, the Times reported.
The UK government sees the use of Britain's cultural heritage as "soft power," a means of gaining influence overseas.
An example given by the Times was the sponsorship of a Chinese tour by the London Symphony Orchestra in 2007. The idea at the time was that such cultural exchanges would help boost trade deals with China.
To contact the author: chris@mail.chinadailyuk.com