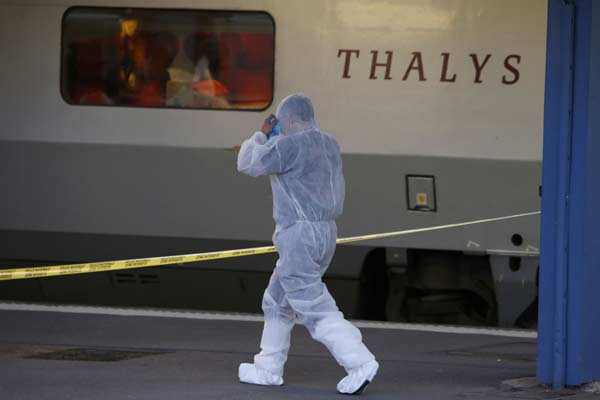 French investigating police in protective clothing prepare to enter the Thalys high-speed train where shots were fired to collect clues in Arras, France, August 21, 2015. [Photo/Agencies]
PARIS - French government on Saturday called for higher vigilance and to further intensify security mainly in public transport after a gunman opened fire against passengers at a Thalys high-speed train injuring three people.
"Facing high level of threats that continues to weigh on the country, the government recalls the full mobilization of government services to ensure the safety of everyone in all parts of the country, especially in transport," Prime Minister Manuel Valls, Interior Minister Bernard Cazeneuve and junior minister in charge of transport Alain Vidalis said in a joint statement.
Valls called on the prefects to increase vigilance to improve surveillance of stations and their surroundings across the country, they added.
Since Jan. 7, French government had increased the vigipirat sysetem to the highest level after three Islamist gunmen killed 17 people in three separate attacks in Paris. A total of 30,000 policemen, gendarmes and soldiers were poured across the country to protect 5,000 sensitive areas including train stations and airports, according to the statement.
A gunman wounded three people on a high-speed train between Amsterdam and Paris on Friday before being overpowered by passengers who included American soldiers.
The assailant is believed to be a 26-year-old Moroccan man known to French intelligence services. after Spanish security services identified him as radical Islamist in connection with extremist movement.
Earlier, Cazeneuve said investigation to confirm the identity of the shooter at a Thalys train was underway.