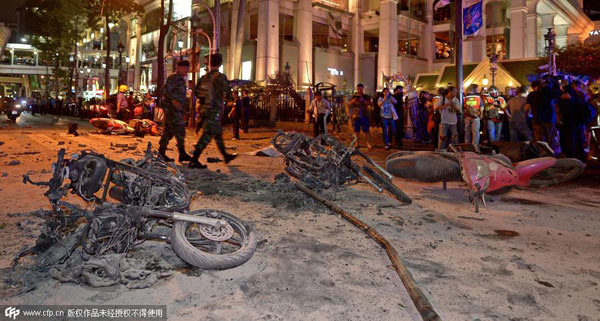 Thai soldiers inspect the scene after a bomb exploded outside a religious shrine in central Bangkok late on August 17, 2015.[Photo/CFP]
Summary
** Blast occurred near a popular Hindu shrine in the Thai capital at approximately 7:15 p.m.
** Three Chinese nationals were killed, and around 15 others injured.
** No immediate claim of responsibility
BANGKOK - Three Chinese nationals were killed, and around 15 others injured, some seriously, in the blast that happened at about 7 pm local time near a renowned shrine in central Bangkok, according to the Chinese embassy in Thailand on Monday.
The number of Chinese casualties is yet to be finalized, the embassy said.
The bomb planted by attackers inside the Erawan shrine at a major city-centre intersection killed 19 people, and wounded more than 100.
The injured, including Thais, Chinese nationals and Filipinos, have been rushed to nearby hospitals, according to the police.
There was no immediate claim of responsibility for the blast.
The Chinese embassy has initiated its emergency response system and sent staff members to hospitals to visit the injured. Volunteers are being arranged to provide interpretation services at the hospitals, according to the embassy.
Sun, a staff member of the embassy, said that relatives concerned for their family members in Thailand can dial 0066-854833327 to contact the embassy for information and help.
"I had just paid tribute to the Buddha. When I was washing my hands, I suddenly heard a huge explosion. I turned around and found that four people standing behind me were all lying on the ground", Gu Xinlun, a Chinese tourist who arrived in Bangkok on Monday, told China Daily in the Police General Hospital in Bangkok.
He said the blast killed one of his friends and his left hand was also injured.
The shrine, on a busy corner near top hotels, shopping centres, offices and a hospital, is a major attraction, especially for visitors from East Asia. Many ordinary Thais also worship there.
"The perpetrators intended to destroy the economy and tourism, because the incident occurred in the heart of the tourism district," Defence Minister Prawit Wongsuwan said.
The government would set up a "war room" to coordinate the response to the blast, the Nation television channel quoted Prime Minister Prayuth Chan-ocha as saying.