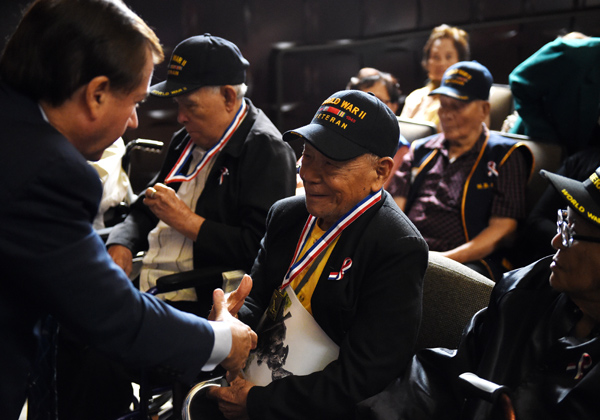 War veterans from the United States and Chinese armed forces are presented with commemorative medallions in Los Angeles on Saturday on the 70th anniversary of the end of World War II. [Photo/Agencies]
A Chinese official and scholars issued an alert over right-wingers in Japan on Sunday following Japanese Prime Minister Shinzo Abe's offering of a ritual donation to a shrine endorsing convicted war criminals.
On Saturday-the 70th anniversary of the end of World War II-some Japanese Cabinet members and about 70 lawmakers visited the Yasukuni Shrine in Tokyo.
Abe's ritual offering was conveyed by an official from the ruling Liberal Democratic Party.
On Friday, Abe delivered a long-awaited statement on behalf of the Cabinet, but drew criticism as he mentioned apologies made by previous Cabinets but failed to apologize himself.
Chinese Foreign Ministry spokeswoman Hua Chunying said China firmly opposed and was dissatisfied with the Yasukuni pilgrimage, because the shrine is a "spiritual tool" and symbol of the aggression launched by the Japanese military.
Hua noted that August 15 was the day when Japan declared an unconditional surrender.
"Only by squarely facing and deeply reflecting upon the past history of aggression and making a clean break with militarism can Japan unload the historical baggage and truly open up the future," Hua said.
Huang Dahui, a professor of East Asian studies at Renmin University of China, said fewer Japanese lawmakers had visited the Yasukuni Shrine this year than last, but this was just "a move to echo the Abe Statement and avoid provoking world opinion during the anniversary".
The Abe Cabinet's efforts in tackling the historical issue were insufficient and "a proactive apology by Abe may be more effective", Huang said.
The academic estimated that Japanese right-wingers "will have a higher profile in the near future" as the anniversary comes to an end.
Japanese Emperor Akihito marked the 70th anniversary of the war's end on Saturday with an expression of "deep remorse," Agence France-Presse reported.
His comments "have attracted increased attention at a time when Abe appears to be pushing for a less apologetic tone toward Japan's past", the report said.
In an article in The Daily Telegraph on Saturday, Chinese Ambassador to Britain Liu Xiaoming referred to the fact that both China's military and its civilians made enormous sacrifices-35 million casualties-for victory in the War of Resistance against Japanese Aggression (1937-45).
Liu said, "History must be remembered in order to prevent attempts to deny the atrocities and crimes of the Japanese aggressors, attempts to distort the history of World War II and attempts to white wash militarism."
Lian Degui, deputy director of the Japanese Studies Center at the Shanghai Institutes for International Studies, said that as Abe advances his "strategic diplomacy, facing up to history could reassure people".
Xinhua contributed to this story.