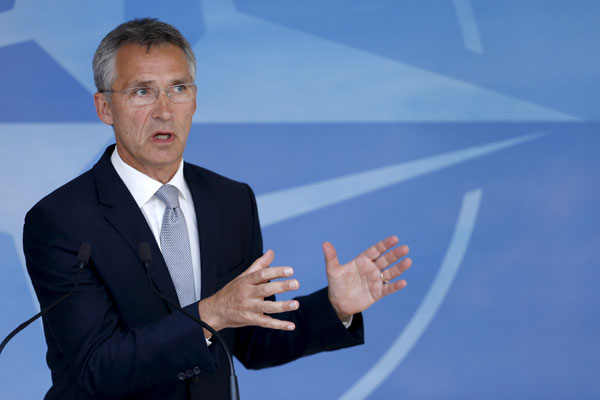 NATO Secretary General Jens Stoltenberg gestures as he addresses a news conference at the Alliance headquarters in Brussels, Belgium, July 28, 2015.  [Photo/Agencies]
BRUSSELS/ISTANBUL - NATO gave Turkey its full political support in fighting militants in Syria and Iraq at an emergency meeting on Tuesday but several nations urged Ankara not to undermine the Kurdish peace process by using excessive military force.
Following a 90-minute meeting in Brussels, Turkey won the backing it sought for stepping up its role in the U.S.-led fight against Islamic State with air strikes.
Ankara made no request to its 27 allies for military help and NATO Secretary-General Jens Stoltenberg noted that it had the second-largest army in the alliance.
Instead, the meeting heard how Turkey was carrying out President Tayyip Erdogan's sudden change in strategy against Islamic State -- an al Qaeda breakaway that controls swathes of Syria and Iraq -- and Kurdish militants based in Iraq.
"We all stand united in condemning terrorism, in solidarity with Turkey," Stoltenberg told a news conference.
The killing of 32 young students in a Turkish border town near Syria last week drove Ankara into battle against Islamic State - a move NATO welcomes - shedding its previous reluctance. Turkey has a 900 km (560-mile) border with Syria and is also concerned about Kurdish militants occupying the frontier area.
Some European nations worry that Erdogan is using the opportunity to bomb Kurdish groups he brands a threat to the integrity of the Turkish state but which enjoy some sympathy in the West.
According to a NATO official present at the meeting, several nations called for "a proportionate use of military force" in the action against Kurdish militants.
European allies, who need Turkey's help to combat jihadi fighters returning to Europe, said Turkey's decision to hit Kurdistan Workers Party (PKK) camps in Iraq at the weekend was justified. But they made it clear at the same time they do not want Erdogan to abandon several years of a domestic peace process which they supported.
German Chancellor Angela Merkel urged Turkish Prime Minister Ahmet Davutoglu in a telephone call on Sunday to respect the principle of proportionality and not to give up on the Kurdish peace process.
"Reconciliation should continue," the Netherlands' ambassador to NATO, Marjanne de Kwaasteniet, said on Twitter.
While the NATO meeting was in session, Erdogan told a news conference it was impossible to continue the peace process with Kurdish militants who claimed responsibility for the killing of two Turkish police officers after the students' massacre.