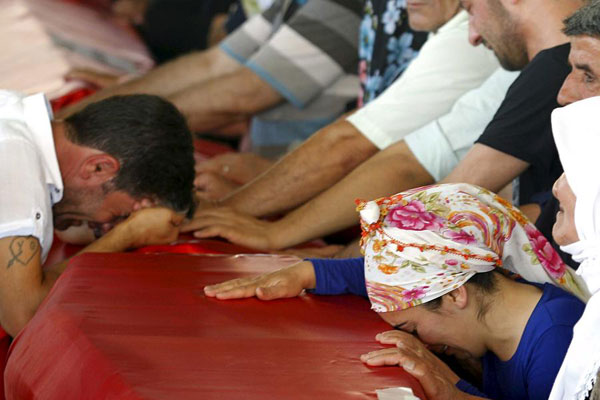 Relatives of victims who were killed in Monday's bomb attack in Suruc mourn over the coffins at a cemetery in Gaziantep, Turkey, July 21, 2015. [Photo/Agencies]
ANKARA -- Turkish authorities have identified a 20 year-old Turkish national as the perpetrator of a deadly suicide bombing which killed 32 people in Suruc town of Sanliurfa province in southeastern Turkey, local CnnTurk reported on Wednesday.
The authorities confirmed DNA tests after taking blood samples from family of Seyh Abdurrahman Alagoz, a 20-year-old university student registered in southeastern Adiyaman province, whose dead body was badly damaged in the blast.
Alagoz and his brother have gone abroad six months ago but she was not aware of their whereabouts, the young man's mother Semure Alagoz was quoted by daily Radikal as saying.
The two brothers were working for a cafe "Islam Tea House," in Adiyaman province which was known linked to sympathizers of Islamic State (IS). The cafe was closed off because of complaints from local families. The brothers then reportedly joined ranks of the IS group.
So far, no group has claimed responsibility for the attack. However, Turkish Prime Minister Ahmet Davutoglu said initial findings point to the IS group as the main suspects.
The suicide bomb attack occurred on Monday in a park where people had gathered to support the rebuilding of the Syrian Kurdish city of Kobane.
Suruc is a predominately Kurdish town which is located across the border from Kobane town in Syria.
IS militants started to attack Kobane in early 2015, forcing thousands of people to cross the border into Suruc town.