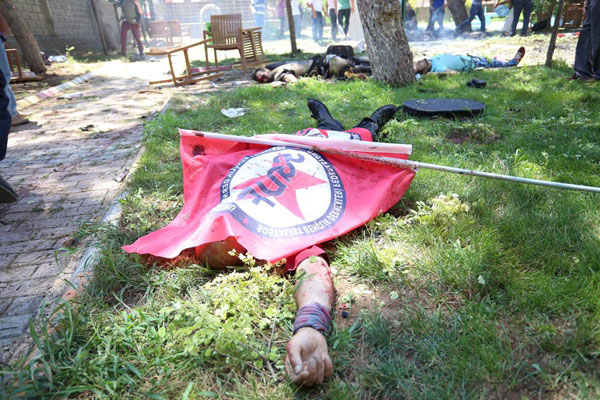 A victim lies on the ground following an explosion in Suruc, in the southeastern Sanliurfa province, Turkey, July 20, 2015. [Photo/Agencies]
ISTANBUL (AP) _ Turkey's prime minister says authorities have identified a suspect in an apparent suicide bombing that killed 32 people and wounded nearly 100 in southeastern Turkey.
Ahmet Davutoglu says that authorities are probing the international and domestic connections of a specific person they believe was a suicide bomber tied to the Islamic State group. He did not elaborate on the identity of the suspect.
Neither the IS group nor any other group has claimed responsibility for the attack in Suruc, near Turkey's border with Syria. Turkish officials have said that they believe the attack was retaliation for Turkey's recent steps against IS militants.
The midday bombing Monday targeted a leftist group that was holding a news conference about efforts to rebuild the city of Kobani across the border.