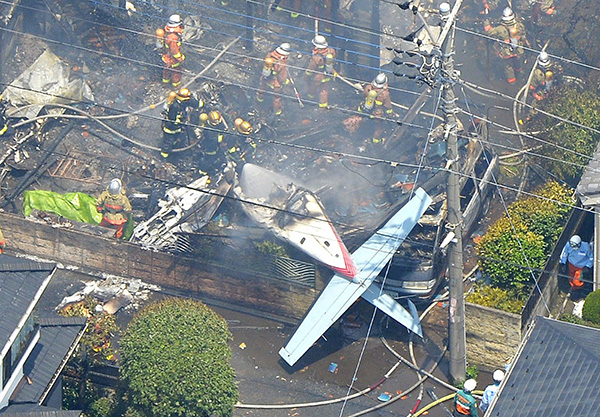 An aerial view shows debris of a crashed light plane (bottom C) and burning houses are seen after the plane went down in a residential area and burst into flames, in Chofu, outskirt of Tokyo, in this photo taken by Kyodo July 26, 2015. A small airplane crashed into a residential area of the Japanese capital, Tokyo, on Sunday, setting fire to houses and cars and injuring at least two people, the Tokyo Fire Department said. [Photo/Agencies]
TOKYO - A small plane crashed into a quiet neighborhood in Tokyo on Sunday, killing the pilot, a passenger and a woman on the ground, while three people were pulled alive from the wreckage, officials said.
The single-engine propeller plane plowed into and set ablaze a row of houses just minutes after takeoff from an airport used by small aircraft about 500 meters (yards) away in Tokyo's western suburb of Chofu.
Television footage showed a mangled plane, broken up with its tail upside down, resting on a crushed car in a residential lot as dozens of firefighters battled the blaze and treated the victims.
The roofs of the two houses next to the site were also damaged.