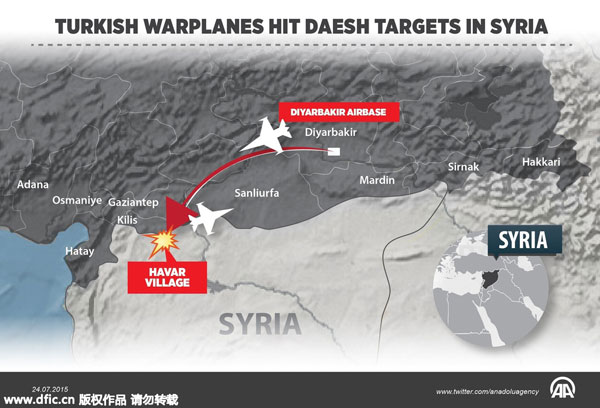 The graphic shows that three of the Turkey's F-16 fighter jets hit Daesh targets in Syria.[Photo/IC]
ANKARA - The Turkish forces have destroyed the Islamic State (IS) targets on the Syrian border that have threatened the Turkish security, Turkish Prime Minister Ahmet Davutoglu said on Friday.
Turkish war jets destroyed the targets within the national airspace, since they did not need to enter the Syrian territory for the attack, the prime minister told reporters, noting that the army would have launched the operation in the Syrian airspace if needed so.
In the operation, three F-16 fighters took off from an air base in southeastern Turkey, bombed three IS targets on the Syrian territory for 13 minutes, and then flew back on early Friday.
The military operation came after an IS assault from the Syrian side that killed a Turkish soldier in gunfire on border in southern Turkey on Thursday.
Davutoglu, meanwhile, pointed out to an agreement with the US.
on the fight against the IS fighters, saying Ankara and Washington have reached a consensus which takes into account Turkey concerns.
The prime minister's remarks came in reply to a question if the US agreed on Turkey's expectation to declare a safe region and no-fly zone in northern Syria which will protect the Syrian rebels.
Turkey and the U.S. would take "concrete steps" in the upcoming days in line with the agreement, Davutoglu said.
Turkish Deputy Prime Minister Bulent Arinc on Wednesday said that a cabinet decree on the agreement with the US has been opened to signature.
The Turkish officials decline to give further information on the agreement yet, but the longstanding US demand to use Incirlik Airbase in southern Turkey for coalition operations will be responded.
Turkey has informed its allies about the military operation, and has currently been informing NATO and UN, Davutoglu said.