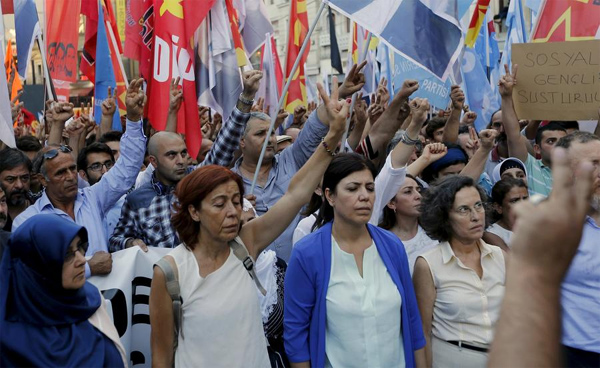 Demonstrators hold a minute of silence for the victims during a protest against the bomb attack in the border town of Suruc, in central Istanbul, Turkey, July 20, 2015. [Photo/Agencies]
SURUC, Turkey - A suspected Islamic State suicide bomber killed at least 30 people, mostly young students, in an attack on a Turkish town near the Syrian border on Monday.
Bodies lay beneath trees after the blast outside a cultural centre in the mostly Kurdish town of Suruc in southeastern Turkey, some 10 km (6 miles) from the Syrian town of Kobani, where Kurdish fighters have been battling Islamic State.
The explosion tore through a group of mostly university-aged students from an activist group as they gathered to make a statement to the local press about a trip they were planning to help rebuild Kobani.
Turkey's NATO allies have been seeking tighter controls on a porous border with Syria that runs alongside Islamic State-held territories. But monitoring is difficult with 1.8 million Syrian refugees now on the Turkish side and smuggling rife.
The United States, which has an air base at Incirlik in southern Turkey, though it is not being used for its air attacks on IS forces, called the bombing a "heinous terror attack".
Prime Minister Ahmet Davutoglu told a news conference in Ankara 30 people had been killed. "It is...most probably a suicide bombing."
The Hurriyet newspaper said the attacker was an 18-year old woman, but there was no confirmation.
"Turkey has taken and will continue to take all necessary measures against the Islamic State," Davutoglu said, without giving details. "Measures on our border with Syria...will be increased."
One witness, giving his name as Mehmet, told Reuters by telephone he saw more than 20 bodies.
"It was a huge explosion, we all shook."
Video footage showed young men and women standing behind a banner declaring support for Kobani, some holding up small red flags. Suddenly there was a huge explosion, apparently from within the crowd, sending up a column of flame.