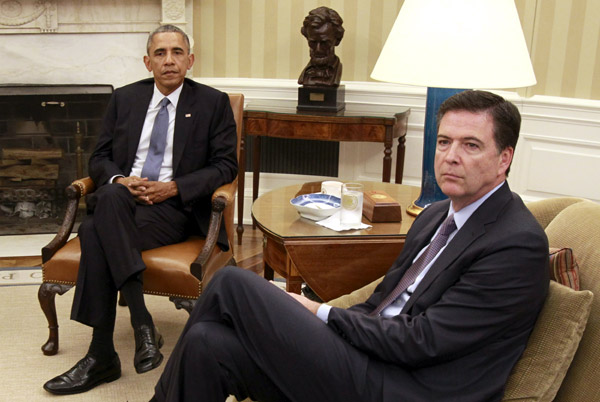 US President Barack Obama (L) sits with FBI Director James Comey in the Oval Office in Washington after making comments to the media about shootings at military facilities in Chattanooga, Tennessee, July 16, 2015. [Photo/Agencies]
WASHINGTON - The terror group Islamic State (IS) is a bigger security threat to the US than the al-Qaida after the head of an al-Qaida affiliate group was killed, the US Federal Bureau of Investigation (FBI) chief was quoted as saying Thursday.
FBI Director James Comey told the US cable news TV network CNN in an interview that US military strikes have diminished the al-Qaida offshoot Khorasan Group, but the bigger threat faced by the US is now IS.
Comey was referring to the death of Muhsin al Fadhli, head the Khorasan Group, who was killed on July 8 while traveling in Syria in a targeted strike by the US, the Pentagon said Tuesday. The Khorasan group has long threatened and plotted to launch terror attacks against US targets.
The FBI chief noted that the IS poses bigger threat now because it has influenced and recruited many Americans through the use of social media, adding that the US has tracked dozens of Americans who have traveled to Syria or Iraq to fight with the IS.
"The IS threat is very different in kind, in type and degree than al Qaida, very different model. And by virtue of that model, it's currently the threat we are worried about in the homeland most of all," Comey said.
He also expressed concerns about the encrypted communications used by the IS that the FBI can not access.
"If you imagine a nationwide haystack, we are trying to find needles in that haystack. And a lot of those needles are invisible to us either because in they are communicated or just because they have communicated in a place that we can't see them," Comey said. "And knowing there are needles out there that you can't see is very worrisome."
He also said that US investigators had not found the motive behind last week's shootings at two military facilities in Chattanooga, Tennessee, that were carried out by Mohammad Abdulazeez. Four Marines and the shooter were killed in the attack. Another Marine died later of his wounds.
This attack has heightened the fears that such lone wolf attacks by IS inspired US citizens are hard to detect and prevent in the future.