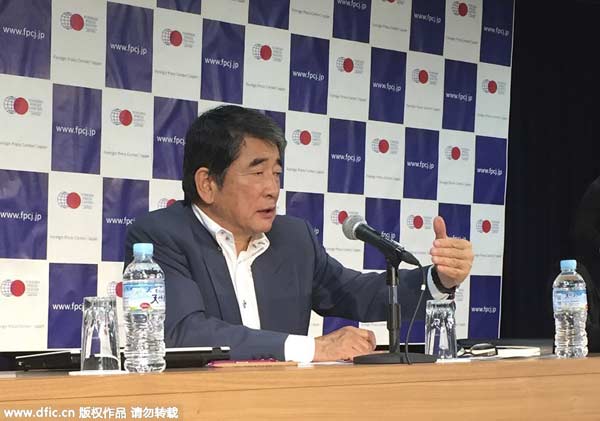 Yukio Okamoto, an outside director of Mitsubishi Materials, speaks to the foreign media in Tokyo Wednesday, July 22, 2015. Okamoto said that the company hopes to apologize to former British, Dutch and Australian World War II POWs, and also reach an amicable solution with Chinese forced laborers, following a landmark apology to American POWs earlier this week. [Photo/IC]
TOKYO - Japan's Mitsubishi Materials will offer compensation and apology to Chinese forced laborers it used during the World War II, according to Japan's Kyodo News early Friday, citing sources directly involved in the issue.
If realized, it will mark the first positive step by the company to seek reconciliation with Chinese forced labor victims.
The planned apology to Chinese forced laborers, although not been confirmed by the company immediately after Kyodo's report, came after its unprecedented apology on Sunday to US prisoners of war (POW) used as forced labor by the company.
According a Japanese government report, a total of 3,765 Chinese nationals were used as forced labor in 12 mining sites belonging to the Mitsubishi Materials in wartime and about 720 of them died at that time.
The plan reportedly said that the company will offer all the 3, 765 Chinese with a compensation of 2 million yen (about $16,000) for each and sincere apology for its wartime wrongdoings to the victims.
The Mitsubishi will also erect a memorial monument and spend about 200 million yen (about $1.61 million) to investigate in relevant issues, according to Kyodo.