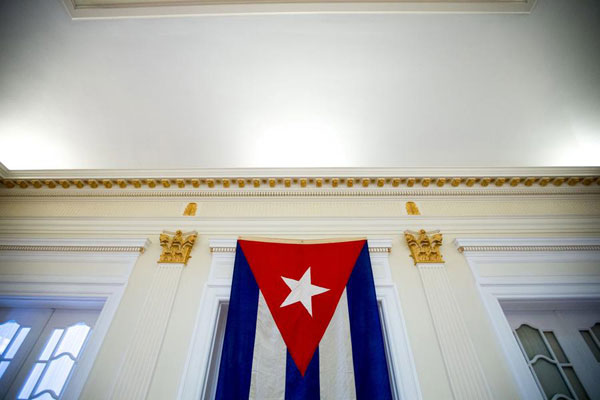 The last Cuban flag that was lowered from the Cuban Embassy in Washington on January 3, 1961, is seen hanging in the new embassy in Washington, July 20, 2015.[Photo/Agencies]
WASHINGTON - The Cuban flag was raised over Havana's embassy in Washington on Monday for the first time in 54 years as the United States and Cuba formally restored relations, opening a new chapter of engagement between the former Cold War foes.
Cuban Foreign Minister Bruno Rodriguez presided over the reinauguration of the embassy, a milestone in the diplomatic thaw that began with a breakthrough announcement by US President Barack Obama and Cuban President Raul Castro on Dec 17.
With the re-establishment of relations severed more than five decades ago, the US Embassy in Havana was also officially reopened for business. But the Stars and Stripes will not be hoisted there until a visit by Secretary of State John Kerry, expected next month.