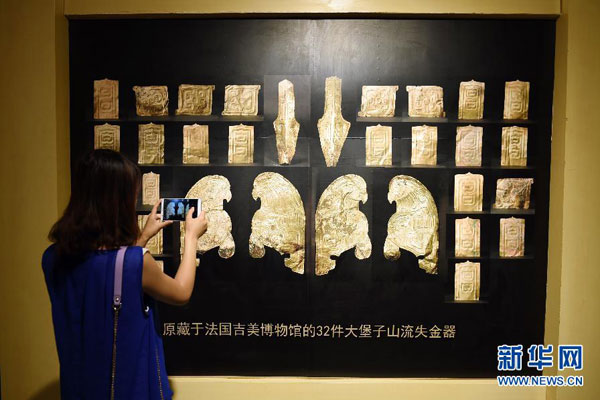 A visitor takes photo of the gold ornaments French collectors handed over to China, July 20, 2015. [Photo/Xinhua] 
LANZHOU - Thirty-two gold ornaments stolen from ancient Chinese tombs and held by French collectors were formally handed over to northwest China's Gansu Provincial Museum on Monday.
Li Xiaojie, head of the State Administration of Cultural Heritage, presented one of the ornaments to Liu Weiping, Gansu provincial governor, at a handover ceremony on Monday morning.
A public exhibition of the artifacts also opened on Monday and will last until Oct. 31. After that, they will be permanently displayed at the Gansu Provincial Museum.
This is the first time cultural relics have been successfully returned to China following bilateral negotiations between the Chinese and French governments. They were returned by French private collectors Francois Pinault and Christian Deydier earlier this year.
"The return of the relics is the result of joint efforts by the Chinese and French governments and friends," said Li, adding that it reflects the China and France's determination to shoulder international responsibility and protect cultural heritage.
France hopes the return of the items can help Chinese get in touch with their own culture, said Maurice Gourdault-Montagne, French ambassador to China, at the ceremony.
The 32 gold items came from tombs in Dabuzishan in Lixian County, Gansu Province. The tombs belonged to residents of Qin, one of the small kingdoms during the Spring and Autumn period (770 BC-476 BC) of Chinese history. In 221 BC, the king of Qin united China's kingdoms, founded the Qin Dynasty and became the country's first emperor.
Gold ornaments may have been used to decorate coffins or for horse armor, said Wang Hui, head of the Gansu Provincial Institute of Cultural Relics and Archaeology.
The Qin people might have had exchanges with middle and western Asia. At that time, Chinese took bronze and jade as symbols of wealth while people in middle and western Asia valued gold more, Wang explained.
The tombs were badly looted during the 1990s and a large number of relics, including the gold ornaments, were smuggled abroad.
These relics had been donated to the Guimet Museum in Paris by Pinault and Deydier when China approached France for their return in 2014. French law forbids national museums giving away their collections.
Through careful negotiation, however, the two sides found a way out. The donations were withdrawn and the artifacts were returned to their previous private owners, removing the legal barrier to getting them back to China.
"This is just the beginning for the return of the large number of smuggled Chinese cultural relics being scattered across the world," said Wang.
Establishing a chain of evidence with archaeological analysis and technological authentication and facilitating this return through international cooperation sets a good example, he believes.
The State Administration of Cultural Heritage will negotiate with more countries and aim to prompt more smuggled relics' return to China through diplomatic and legal means, according to Li Xiaojie.