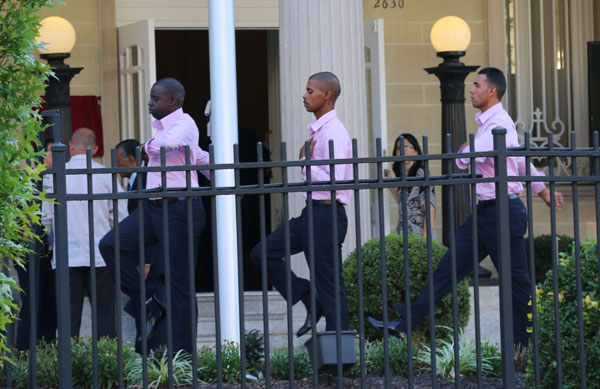 Three people practice around a flag pole on Sunday evening at the Cuban Interest Section in Washington for an official flag-raising ceremony to be held on Monday morning when the Cuban embassy in the US will be re-opened after 54 years. Chen Weihua/China Daily
US President Barack Obama announced on July 1 to re-establish diplomatic ties with Cuba.
Cuban Foreign Minister Bruno Rodriguez, who leads a delegation of about 30 Cuban officials, will attend the Monday ceremony and will then meet US Secretary of State John Kerry at the State Department. Kerry is expected to travel to Havana next month.
Built in 1917, the limestone mansion at 2630 16th Street was at the time as the first diplomatic building in the Meridian Hill neighborhood in Washington. Cuban leader Fidel Castro visited the embassy in 1959 after overthrowing dictator Fulgencio Batista.