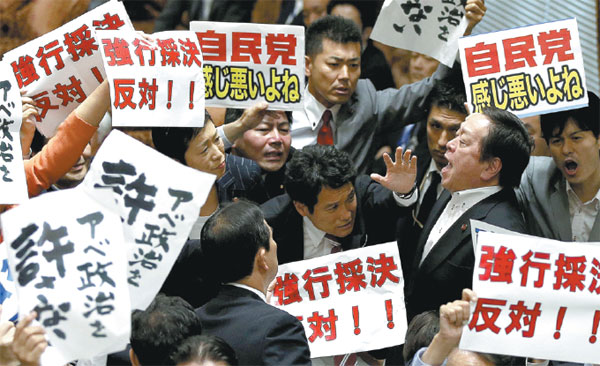 Yasukazu Hamada (second from right), chairman of the lower house committee that approved the bills, is surrounded by opposition lawmakers after the vote on Wednesday. If the bills become law, Japanese troops will be able to fight abroad. Toruhanai / Reuters

TOKYO - Japan's ruling coalition led by Prime Minister Shinzo Abe rammed through a series of controversial security bills in the all-powerful lower house Thursday amid strong public opposition, marking the most significant overturn of the nation's "purely defensive" defense posture.
Major opposition parties skipped the vote.
Observers said that if the bills become law, it would mark a historic shift for the officially pacifist nation, and such a move would require vigilance from Japan's neighbors including China and South Korea.
The vote coincided with Beijing's announcement that Shotaro Yachi, the head of Japan's National Security Secretariat and a key foreign policy adviser to Abe, will visit China from Thursday to Saturday.
If enacted, the bills will allow the Japanese Self-Defense Forces to engage in armed conflicts overseas and help defend others even if Japan is not attacked, under a policy called collective self-defense.
An expanded role for the Japanese military would mark a key departure from Japan's pacifist Constitution, especially the war-renouncing Article 9, which bans the country's armed forces from fighting overseas.
Lyu Yaodong, an expert on Japanese policies at the Chinese Academy of Social Sciences, said the bills are actually warfare legislation presented as being in the name of peace.
The proposed measures go against the peaceful path that Japan has followed over the past decades, he said.
Polls by Japanese media show that the bills are unpopular among academics and the Japanese public.
That tension was on display on Wednesday as opposition lawmakers attempted to thwart the vote and hundreds of protesters chanted anti-war and anti-Abe slogans outside the parliament.
The legislation is far from being widely understood by the general public, the Asahi Shimbun newspaper said in an editorial on Tuesday.
"We believe the Diet deliberations on the bills have failed to address a slew of fundamental questions, not just issues concerning constitutionality but also ones that are important from the viewpoint of how Japan's safety should be secured," the newspaper said.
Huo Jiangang, an expert on Japanese studies at the China Institutes of Contemporary International Relations, said the bills are likely to become law despite Abe's falling poll ratings.
The ruling bloc, which consists of Abe's Liberal Democratic Party and its junior partner the Komeito Party, has two-thirds of the seats in the lower house.
If a bill is passed in the lower house but is vetoed by the upper house, it can still be enacted if it secures more than two-thirds support in a new vote in the lower house.