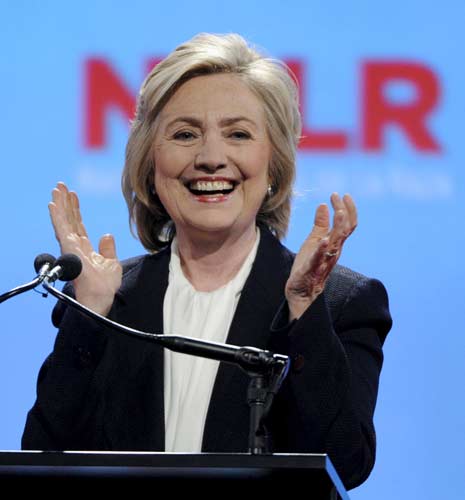 US Democratic Presidential candidate and former US Secretary of State Hillary Clinton applauds the crowd during the National Council of La Raza annual conference in Kansas City, Missouri July 13, 2015. [Photo/Agencies]
WASHINGTON - The two presidential candidates whose immediate families include former presidents loom large in early fundraising for 2016.
Democrat Hillary Rodham Clinton and Republican Jeb Bush account for almost half the roughly $390 million that presidential groups for all the expected 22 candidates say they've raised. Most campaigns, including Clinton's and Bush's, were required to file their initial reports with the Federal Election Commission by midnight Wednesday.
Bush's report shows he's the biggest donor to his own campaign. The former Florida governor paid for $388,720 in services such as legal and strategic consulting to get his bid rolling. His campaign had about $8.4 million left in the bank at the end of June.
The FEC reports cover financial activity between April 1 and June 30 and list the names of everyone who gave at least $200. The maximum contribution for the primary is $2,700. The FEC reports also show how candidates are spending their money - on consultants, office space, advertising, polling and more.
Wednesday's reports provide only a glimpse of all the money that donors are handing over. The candidates also benefit from super PACs created specifically to help them. Those groups, which accept contributions of any size and are subject to legal limits on how closely they can work with the campaigns, file their FEC reports at the end of the month.
Ahead of the deadlines, many candidates and their super PAC boosters have publicized their fundraising totals.
Dominating the cash haul are Clinton and Bush.
Clinton, the Democratic front-runner, has raised $45 million in checks of $2,700 or less for her campaign. Priorities USA Action, a super PAC that counts on seven-figure donors, raised an additional $15 million.
Bush's money looks different. Before he officially declared his candidacy, he spent the first six months of the year raising huge sums of money for Right to Rise, a super PAC that's boosting his bid to win the Republican nomination. That group says it has raised a record $103 million. Bush's presidential campaign, which began June 15, collected $11.5 million from contributors.