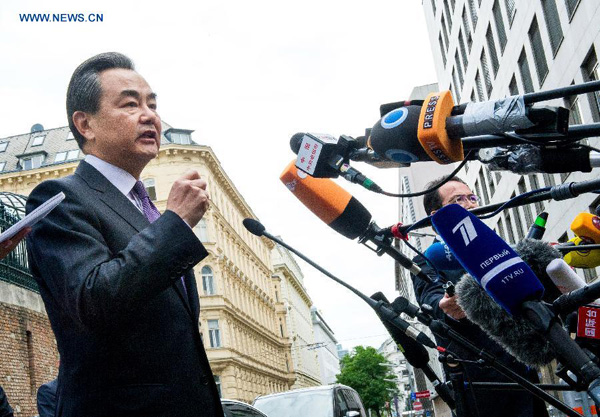 Chinese Foreign Minister Wang Yi speaks to journalists in front of the Palais Coburg hotel, the venue for nuclear talks in Vienna, Austria, July 13, 2015.  [Photo/Xinhua]
Iranian President Hassan Rouhani confirmed the deal on Twitter feed, saying it "shows constructive engagement works."
According to the White House, U.S. President Barack Obama will make an announcement on the Iranian nuclear program at 1100 GMT.
Meanwhile, Yukiya Amano, director general of the International Atomic Energy Agency (IAEA), said he has signed a roadmap with Iran to clarify past and present outstanding issues, according to media reports.
"I have just signed the roadmap between the Islamic Republic of Iran and the IAEA for the clarification of past and present outstanding issues regarding Iran's nuclear program," Amano said ahead of the expected announcement of the historic deal.
Future access to Iran's Parchin military site, which the agency had repeatedly sought, is part of a separate "arrangement", Amano said.
After Rouhani took office in 2013, Tehran and the six countries intensified the nuclear talks and signed a deal in Geneva in November 2013, under which Tehran would suspend some disputed nuclear activities in exchange for limited sanction relief from Western states, buying time for diplomatic efforts.
In the past 18 months marathon negotiations, Iran and the six countries have resolved many tough issues which were once seen as an impossible task to be done, such as capping Iran's nuclear capacity, giving greater transparency of Tehran's atomic plan.