* Six powers conclude meeting at Iran nuclear talks - US Official
* Deadline already extended three times in two weeks
* Officials from both sides say most parts of deal are agreed
* Kerry declines to say if talks could be prolonged yet again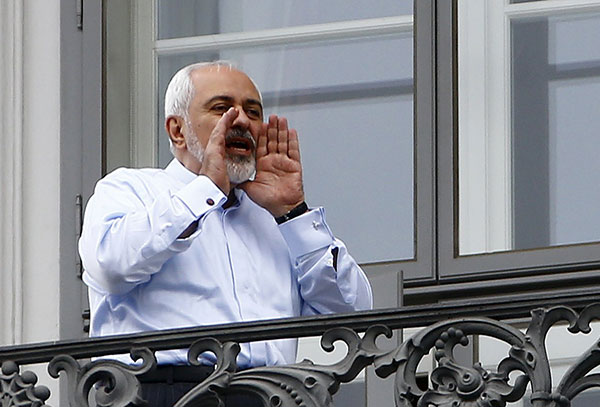 Iranian Foreign Minister Javad Zarif talks to journalists as he stands on the balcony of Palais Coburg, the venue for nuclear talks, Austria, July 13, 2015. [Photo/Agencies]
VIENNA - Six major powers seeking to negotiate an agreement to limit the Iranian nuclear programme concluded a meeting that lasted just over an hour on Tuesday, a US official said.
The official, who spoke on condition of anonymity, said Iran did not take part in the meeting. The powers - Britain, China, France, Germany, Russia and the United States - are seeking to strike an agreement under which Iran would constrain its nuclear programme in return for relief from economic sanctions.
Nuclear negotiations between Tehran and six world powers have missed a midnight deadline on Monday to reach a final deal, but diplomats from all sides said they hoped for a breakthrough in the coming hours.
Iranian Foreign Minister Mohammad Javad Zarif said an agreement was possible on Tuesday, but Western and Iranian officials warned that sticking points remain, including a UN arms embargo, and that things could still fall apart.
The White House said significant issues remained to be resolved and Iran faced some tough decisions.
Officials close to the negotiations spoke of the increasing frustration on the part of European delegates regarding Kerry's apparent unwillingness to walk away, but the White House said "genuine progress" had been made and the US negotiating team would stay in Vienna as long as negotiations remained useful.
"There, there continue to be significant issues that remain," White House spokesman Josh Earnest said. "They're not going to sign on to an agreement until all of our concerns have been addressed. And as long as they continue to make progress in doing that, then the talks will, will continue."
For days, Iran and six world powers have been close to a deal to give Tehran sanctions relief in exchange for limits on its nuclear programme, but officials said success was not guaranteed.
Meetings continued late into Monday with some diplomats hoping a breakthrough could happen overnight as they continued to struggle over issues such as UN sanctions and access to Iranian military sites.
Earlier, US Secretary of State John Kerry sat in silence when asked if the deadline might be extended or if he could rule out an extension.
His Iranian counterpart, Mohammad Javad Zarif, said "there shouldn't be any extension", according to the semi-official Fars news agency, only to add: "But we can continue the talks as long as necessary."
Zarif spoke with Kerry and European Union foreign policy chief Federica Mogherini for more than an hour.