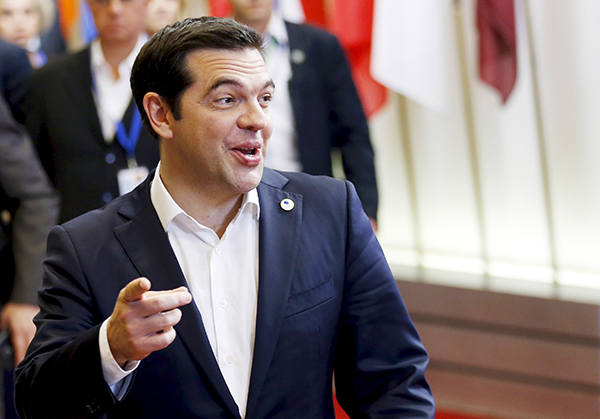 Greece's Prime Minister Alexis Tsipras gestures as he leaves an emergency euro zone summit in Brussels, Belgium, July 7, 2015. [Photo/Agencies]
BRUSSELS - Frustrated and angered eurozone leaders gave Greek Prime Minister Alexis Tsipras a last-minute chance Tuesday to finally come up with a viable proposal on how to save his country from financial ruin.
Overcoming their surprise when Tsipras failed to present them with a detailed plan, the leaders reluctantly agreed to a final summit Sunday, saying that could give both sides an opportunity to stave off collapse of the struggling but defiant member nation.
Underscoring the gravity of the challenge, European Union President Donald Tusk decided to call all 28 EU leaders to Brussels instead of only the 19 eurozone members, because, for the bloc, it "is maybe the most critical moment in our history."
French President Francois Hollande agreed. "It's not just the problem of Greece _ it's the future of the European Union" that's at stake, he said.
And highlighting the rising anger with Tsipras over months of foot-dragging and surprising negotiating twists, European Commission President Jean-Claude Juncker had a stark warning for Greece.
"We have a Grexit scenario, prepared in detail," he said, referring to the situation in which Greece would have to exit the currency union.
With Greece's banks just days away from a potential collapse that could drag the country out of the euro, Tsipras arrived with only vague proposals and a commitment to back it up with real figures and a more detailed plan by Thursday.
Speaking to reporters late Tuesday, Tsipras said he made proposals to the leaders during the evening summit but it was unclear whether it meant anything more than the general direction of staving off too tough austerity and insisting on debt restructuring.
Yet he made clear he had gotten the message that there wasn't a moment to waste as deadlines for debt payments that Greece cannot afford draw near.
"The process will be swift, it will be speedy, it will begin in the next few hours with the aim of concluding until the end of the week at the latest," Tsipras said.
According to a joint statement of the leaders, Tsipras must set out Greece's proposals in detail for a reform agenda. The country's international creditors will then assess the plan to prepare for another meeting of eurogroup finance ministers and ultimately Sunday's summit of the full EU.
Often such detailed plans have fallen by the wayside amid political bickering between Greece and its creditors.