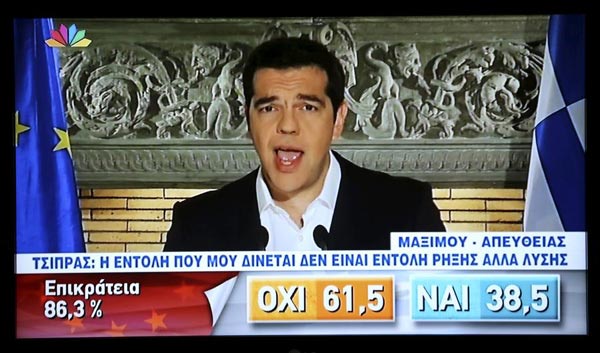 Greek Prime Minister Alexis Tsipras is seen on a television monitor as he addresses the nation in Athens, Greece, July 5, 2015. [Photo/Agencies]
ATHENS, Greece - Greeks awoke Monday to the stark reality of the country's accelerating crisis - shuttered banks and ATMs with little cash - hours after they voted resoundingly to reject more austerity measures in exchange for another bailout.
The results - 61 percent voted "no," compared with 39 percent for "yes" - left the bankrupt country's future in the European Union and its euro currency uncertain.
The margin of victory for "no" was far wider than expected. But as celebrations died down early Monday, Greece entered a second week of severe restrictions on financial transactions and faced the prospect of even limited amounts of cash drying out, with no prospect of an immediate infusion. Greece imposed the restrictions to stem a bank run after the vote was called and its bailout program expired.
Besieged by a prolonged recession, high unemployment and banks dangerously low on capital, Greece defaulted on an International Monetary Fund loan repayment last week, becoming the first developed nation to do so. Now some analysts wonder if Greece is so starved of cash that it could be forced to start issuing its own currency and become the first country to leave the 19-member eurozone, established in 1999.
Market fluctuations
Asian markets mostly fell Monday, as economists said the markets were not expecting such a decisive "no" vote and that could send stocks downward.
European shares headed for a sharp drop on Monday after Greeks rejected austerity measures demanded in return of a debt deal, raising concerns about the country's exit from the euro zone.
The European Central Bank's governing council was not expected to provide more liquidity assistance to Greek banks Monday. The assistance, now at about 90 billion euros, has been maintained but not increased in past days, leaving the country's financial system in a stranglehold. Without an increase, Greeks probably will not be able to withdraw even the meager 60 euros ($67) allocated per day.
That will make it difficult for Greek Prime Minister Alexis Tsipras to keep his pledge, expressed on TV and on his twitter account, that Greece's "immediate priority is to restore our banking system's functioning & economic stability" or for banks to re-open Tuesday, as scheduled.
After Tsipras called for the referendum, negotiations on a financial rescue package broke off with Greece's creditors: other European countries that use the euro, the IMF and the European Central Bank. It's unclear when they could restart, but the Tsipras government has said it believed a deal with creditors could be reached within 48 hours of the vote.