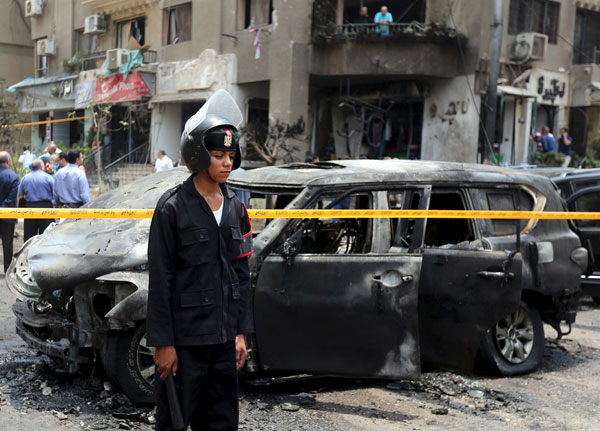 Policemen investigate the site of a car bomb attack on the convoy of Egyptian public prosecutor Hisham Barakat near his house at Heliopolis district in Cairo, Egypt, June 29, 2015.[Photo/Agencies]
CAIRO - Egypt's Prosecutor General succumbed to injuries he sustained earlier on Monday in a bomb attack in Cairo, official MENA news agency reported.
Hesham Barakat, 65, has been seriously wounded and was taken to a hospital in Cairo where he got a sensitive surgery after which he breathed his last.
The Health Ministry said that nine other people were injured in the blast that targeted the country's top prosecutor.
The bombing came after Sinai-based Ansar Bayt al-Maqdis militant group, an affiliate of the Islamic State regional militant group, posted a video clip on Monday supposedly showing attacks in May that killed two judges and a prosecutor.
The group has vowed more attacks on judges in revenge for mass life and death sentences handed down to Islamists.
Barakat has referred thousands of Islamists to mass trials in criminal courts over violence charges since the ouster of Islamist President Mohamed Morsi in July 2013.