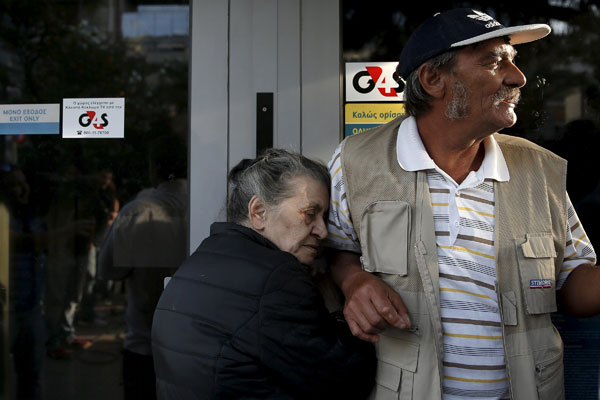 Vallia (L), a 75-year-old pensioner from Athens, holds onto the door of a branch of the National Bank of Greece hoping to get her pension, next to other pensioners in Athens, Greece June 29, 2015. Greece closed its banks and imposed capital controls on Sunday to check the growing strains on its crippled financial system, bringing the prospect of being forced out of the euro into plain sight. [Photo/Agencies]
LONDON - Global stock markets took a battering Monday after Greece shuttered its banks for the week and imposed limits on cash withdrawals, developments that have reinforced fears the country is heading for a debt default and a messy exit from the euro.
Investors are fretting about the uncertainty posed by the events in Greece. Though many experts say the global economy, even Europe, is in better shape to withstand a potential Greek exit from the euro, some point out that its implications are not fully clear.
Stocks fell in Asia and Europe, where Germany's main index was down 3.5 percent and Greece's market remained closed for the week. The euro fell sharply, as did oil prices, and Wall Street was expected to open lower.
Greece's crisis escalated over the weekend after Greek Prime Minister Alexis Tsipras said the country will hold a referendum on a bailout plan proposed last week by the country's creditors.
In response to the referendum proposal, Greece's eurozone partners refused to extend the country's bailout program, which expires on June 30, and the European Central Bank capped its emergency support for the country's banks. That prompted the Greek government to announce limits on money withdrawals and transfers. Daily cash withdrawals are capped at 60 euros ($67) per account.
"The images of queues at ATMs in Greece are stripping traders of what little confidence they have left in the nation, and the financial earthquake that happened in the eurozone over the weekend can be felt around the world," said David Madden, market analyst at IG.
"Of all the market sell-offs we have witnessed due to Greece this one is the worst in years, and traders who thought a Greek exit wasn't on the cards are quickly reassessing their point of view," he added.
The CAC-40 stock index in France was down 3.6 percent at 4,877 while Germany's DAX fell 3.5 percent to 11,088. The FTSE 100 index of leading British shares was 1.7 percent lower at 6,639.