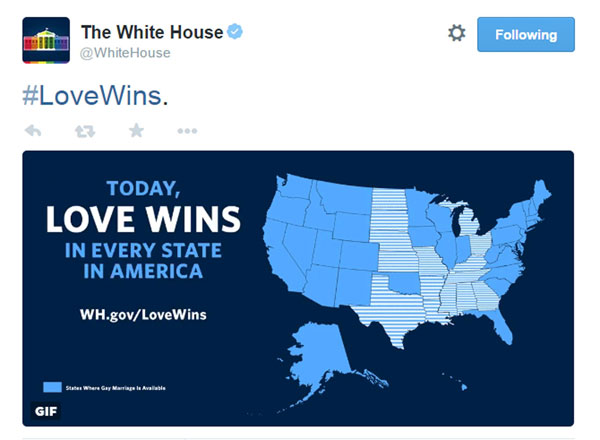 A message on the White House's Twitter feed is seen after a Supreme Court ruling on gay marriage in Washington, D.C. June 26, 2015.[Photo/Agencies]
WASHINGTON  - The US Supreme Court's declaration on Friday of a right to same-sex marriage resolved a momentous question, yet the ruling left many others unanswered and is likely to spark future legal battles over gay rights.
In America, the right to marry represents only one piece in the evolving legal framework for gay civil rights.
Currently no constitutional principle or nationwide law broadly prohibits discrimination based on sexual orientation. So in the majority of states, for example, landlords can legally turn away renters because they are gay and employers can reject job applicants for their sexual orientation.
And for opponents of a gay-marriage right who say it could infringe on their religious freedoms, the justices themselves disagreed sharply over the consequences of a decision that sparked banner-waving jubilation outside the columned building.
The four dissenting justices raised the specter that the ruling could erode the rights of religious individuals and institutions. Opponents of same-sex marriage have said it threatens the centuries-old American constitutional principle of religious freedom that permits rabbis, priests and other clergy to marry, or not, couples of their choosing.