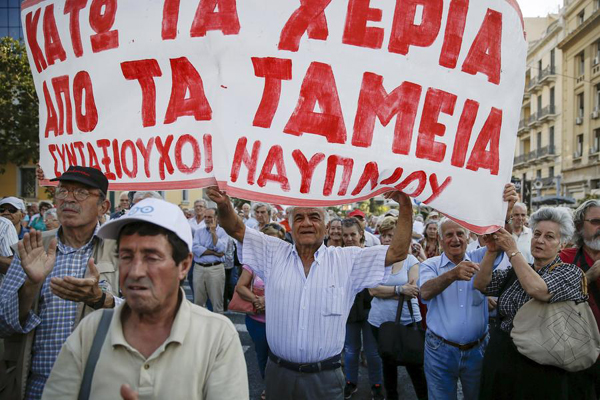 Pensioners hold a banner reading "Keep your hands off the funds" during an anti-austerity demonstration in Athens, Greece June 23, 2015. [Photo/Agencies]
MELBOURNE - Thousands of Greek nationals are fleeing their home country to come to Australia, with many choosing to settle in Melbourne, local media reported on Wednesday.
The Australian Broadcasting Corporation (ABC) reported that Greece's bleak economic outlook has resulted in mass migration, with Australia being one of the major countries of choice for struggling Greek families.
Melbourne is home to the largest Greek-speaking population outside of the Greek capital Athens and second largest city Thessaloniki, with many fleeing the economic turmoil turning to extended family in Australia to help them get a second chance.
According to Bill Papstergiadis, president of the Greek Orthodox community in Victoria, more than 10,000 Greeks have fled the country for Melbourne in the last three years.
He told the ABC that it reminded him of the 1960s and 70s, when Greek migration was at its strongest.
He said the situation in the European nation is so dire that he has received letters asking for help with migration.
"One I received last week was from an engineer who hasn't been able to find work for three years, and got to the point now where he's got three children and can't feed them," he said.
"We're seeing an exodus out of Greece. We're seeing a brain- drain, many young people who are highly educated, highly qualified looking for jobs elsewhere."
The Greek debt crisis has hit tipping point for many families, some workers are being paid the paltry salary of just 155 US dollars per week.