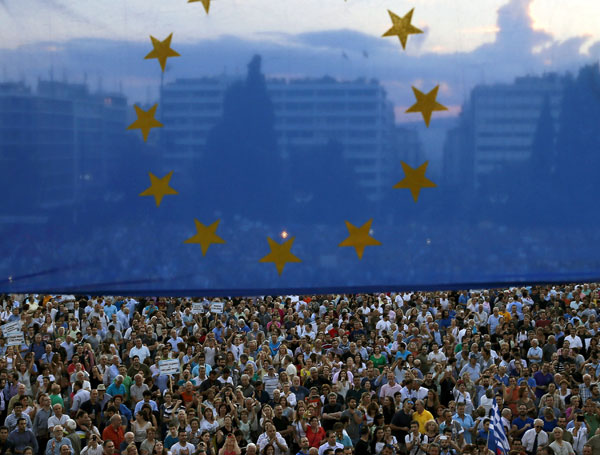 Protesters hold an EU flag as people gather at the entrance of the Greek parliament after entering its premises, during a rally calling on the government to clinch a deal with its international creditors and secure Greece's future in the Eurozone, in Athens, June 18, 2015. Hopes of a breakthrough at Thursday's gathering of European finance ministers, once seen as the last opportunity for an agreement, looked increasingly remote. [Photo/Agencies]
Amid concerns that Greece could fall out of the euro, at least 6,000 people have gathered outside Parliament in central Athens in a peaceful demonstration backing the country's membership in the currency zone and the European Union.
Scores of demonstrators, waving Greek flags climbed the marble staircase leading to the threshold of the Parliament building. Among the crowd were several opposition lawmakers.
Meanwhile, police blocked a planned march by 200 anarchists in the area. The anarchists are protesting against capitalism, the government and Greece's creditors.
On Wednesday evening, about 7,000 people held an anti-austerity rally outside Parliament, waving the flags of Greece and the governing radical left Syriza party.