For tens of millions Chinese lesbian, gay, bi-sexual and transgender (LGBT) individuals living in the shadow of invisible discrimination and social isolation, the group wedding for seven gay and lesbian couples from China on June 9 in West Hollywood, California, was nothing short of inspiring.
The seven couples, six gay and one lesbian, were selected through a high-profile "We Do" Contest sponsored by Chinese e-commerce giant Alibaba and China's largest gay dating app, Blued.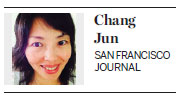 Offering an all-expense-paid wedding in the US for each winning couple, organizers asked netizens to vote for their top 10 favorite couples among all the 2,000 contestants after reviewing video clips they had submitted detailing their love stories.
West Hollywood Mayor Lindsey Horvath officiated at the wedding ceremony at the West Hollywood Library and the Beverly Hills Courthouse issued the couples marriage licenses. The iconic library has seen many gay US couples tie the knot since 2013, when California lawmakers legalized same-sex marriage.
"We're so honored and happy to have them in West Hollywood," Horvath said.
Bittersweetly, although these couples' marriages are recognized in California, their marriage certificates won't be taken seriously and regarded valid back in China.
Although there are no official statistics on the LGBT population in China in recent years, it's been widely estimated that they number approximately in the tens of millions. According to LGBT Capital, an asset management and corporate advisory company, there is a market of around $300 billion within the LGBT group in China.
Homosexual people in China have come a long way towards self advocacy for gay rights. A social phenomenon with a long documented history of about 5,000 years, homosexual relationships in China have gone through changes of status from a normal facet of life in ancient times to a social taboo from the early 20th century forward.
During the "cultural revolution" (1966-76), China took a very stern stance against homosexuality, and would severely punish and humiliate gay and lesbian individuals under a statute forbidding "hooliganism".
"In the past, homosexuality, gambling and prostitution were all considered dirty subjects and not allowed in the media," said Li Yinhe, a Chinese sociologist and sexologist, in a Los Angeles Times report last week.
But as the country's economy has developed and social tolerance has grown, the Chinese government has taken a somewhat more agnostic approach toward homosexuality — neither banning nor endorsing it, Li explained.
The nation then gradually loosened its control over LGBT groups and finally legalized all consensual and non-commercial homosexuality in 1997.
In 2001, homosexuality was removed from the Ministry of Public Health's list of mental diseases, and the public health campaign against the AIDS and HIV pandemic has included gay partners who are in active sexual relationships into education.
In addition, law enforcement against gay people is solely restricted to gay sex acts in public or gay prostitution.
However, social acceptance of LGBT groups in China is still low compared to Western countries.
"Attitudes may have changed, but discrimination continues to be widespread," said Liu Dalin, a sexologist at the sociology college of Shanghai University, in an interview in 2010, adding that about 90 percent of homosexuals have or will get married heterosexually because of family pressure.
Zhang Beichuan, a professor at Qingdao University, conducted research in 2008 on 1,259 gay men in China. Among those surveyed, 62 percent said they had never "come out", the expression for when a person makes their sexual orientation public. Nine percent said they had been fired or forced to quit their jobs after employers discovered their homosexuality. Twenty percent reported that they had been victims of verbal and physical abuse both at home and at the workplace. About 35 percent admitted they had contemplated suicide, and 13 percent had actually attempted it.
Contact the writer at junechang@chinadailyusa.com