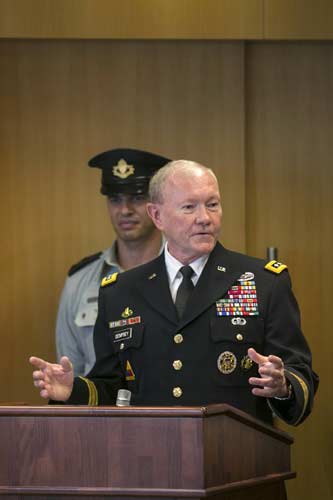 General Martin E. Dempsey, chairman of the Joint Chiefs of Staff, delivers a statement after a welcoming ceremony in Tel Aviv June 9, 2015. [Photo/Agencies]
NAPLES, Italy - The United States is considering building more US military bases in Iraq to drive back Islamic State militants in a move that may require a further increase in American forces, the top US general said on Thursday.
A day after the White House announced the deployment of 450 more US troops to Iraq and a new training hub in Anbar province, Army General Martin Dempsey said the Pentagon was considering more sites in strategic areas such as the corridor from Baghdad to Tikrit and further north toward Mosul.
Dempsey, chairman of the Joint Chiefs of Staff, acknowledged these might require sending more US troops, which already numbered about 3,100 in Iraq before Wednesday's announcement. His spokesman said American forces could also be moved from within Iraq to avoid troop increases.
US President Barack Obama has said the troops would not engage in combat in Iraq, where the Pentagon has relied heavily on an air campaign that US officials say has killed thousands of Islamic State fighters and eroded their capability.
While the 3,100 US forces in Iraq are a far cry from the peak of about 170,000 under President George W. Bush, the newly announced operations mark the first significant adjustment in Obama's Iraqi strategy in months and follow gains by Islamic State insurgents who control a third each of Iraq and Syria.
Asked about Dempsey's comments, White House deputy national security adviser Ben Rhodes told MSNBC, "if (Obama) gets a recommendation to have another facility like this, he'll take a hard look at it."
White House spokesman Josh Earnest told reporters there were "no immediate or specific plans" to add new bases in Iraq.
Dempsey also renewed the possibility of deploying US spotters alongside Iraqi forces to call in air strikes during a future offensive, but added, "we're just not there yet."
The possible future training sites, such as the hub at the Taqaddum military base about 15 miles (25 km) from Ramadi, were "just part of prudent planning," he said.
"It's very practical (planning), looking at geographic locations, road networks, airfields, places where we can actually establish these hubs," Dempsey said.
Dempsey did not see another such site in Anbar province soon. "But I could conceive of one potentially somewhere in the corridor that runs from Baghdad to Tikrit to Kirkuk and over into Mosul. So we're looking at that area," Dempsey said.