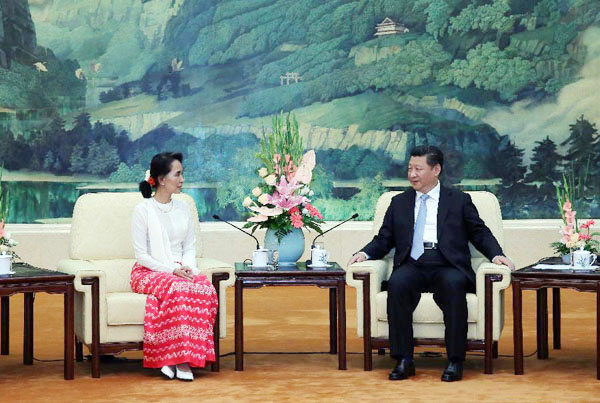 Chinese President Xi Jinping (R) meets with a delegation from Myanmar's National League for Democracy (NLD), headed by NLD chairperson Aung San Suu Kyi, at the Great Hall of the People in Beijing, China, June 11, 2015. [Photo/Xinhua]
Party Chief and President Xi Jinping called for Myanmar opposition leader Aung San Suu Kyi and her party to play a constructive role in fostering a better understanding of China and to view cooperation in a fair and reasonable manner.
Xi made the remarks during a meeting with Myanmar's National League for Democracy chairperson Suu Kyi on Thursday at the Great Hall of the People in Beijing.
Describing the relationship as a community of common interest and destiny, Xi said China has always adhered to push forward the traditional bonds and pragmatic cooperation with Myanmar.
Xi also expressed hope that Suu Kyi's first visit to China could help her better understand China and the Communist Party of China, which would strengthen trust between both sides.
Suu Kyi, wearing a white top and red skirt, said it is vital to be committed to developing the friendly relationship between the two neighbors.
The party she leads admires the great achievements in China under the CPC, and hopes to strengthen the ties between the parties and peoples, she said.
Invited by the CPC, Suu Kyi, 69, started her five-day visit to China on Wednesday amid high expectations that her party will perform strongly in Myanmar's elections later this year.
Myanmar's government has sought to reduce its heavy dependence on China since taking office in 2011 and has suspended a multibillion-dollar Chinese-led dam project.
Economic ties have warmed recently, and both governments also signed more than a dozen cooperation deals in November. However, the relationship was strained in March when a bomb dropped by a Myanmar warplane killed four people in Yunnan province.
Since her release from house arrest in 2010, Suu Kyi has said that her country must maintain friendly relations with China, and has repeatedly expressed her wish to visit China.