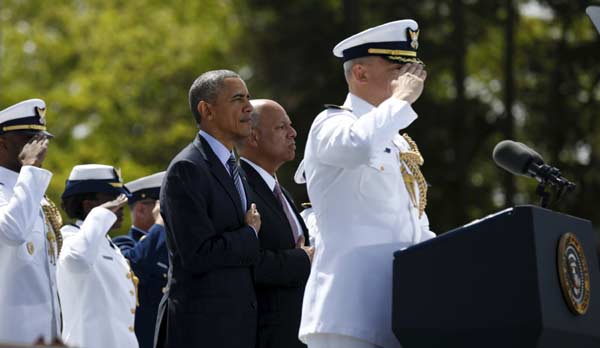 US President Barack Obama and Homeland Security Secrtary Jeh Johnson attend the 134th Commencement Exercises of the United States Coast Guard Academy in New London, Connecticut May 20, 2015. [Photo/Agencies]
WASHINGTON - US Department of Homeland Security Secretary Jeh Johnson has reassigned the acting administrator of the Transportation Security Administration, the department said on Monday.
Melvin Carraway will be reassigned to serve in the Office of Sate and Local Law Enforcement at DHS headquarters, and TSA Acting Deputy Director Mark Hatfield will lead the agency until a new acting administrator is appointed, the statement said.
The TSA was created to tighten travel security in the United States following the Sept. 11, 2001, attacks.