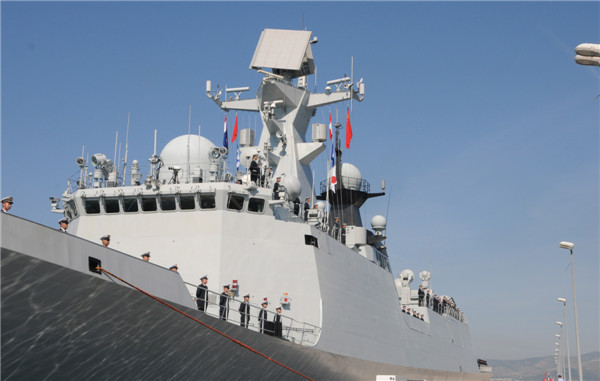 Chinese navy soldiers wave hands on the deck of Linyi missile frigate as it sits docked in the port of Rola, Sprit, Croatia, June 1, 2015. The 19th Chinese naval escort fleets started a five-day goodwill visit to Croatia on Monday. [Photo/Xinhua]
SPLIT, Croatia - The 19th Chinese naval escort fleet on Monday arrived in the Croatian port of Rola in Split where they were welcomed by top Croatian Naval officers and nearly 300 Chinese living in Croatia.
The five-day visit of the Chinese naval fleet, comprising of the missile frigates Linyi, Weifang, and the supply ship Weishanhu, is historical for Croatia and its Navy because it was the first visit of Chinese naval ships to Croatia.
At the welcome ceremony, Commodore Predrag Stipanovic, commander of the Croatian Navy, said: "We are honored to host the Navy ships of the Pepople's Republic of China."
Rear Admiral Jiang Guoping, commanding officer of the 19th Chinese naval escort fleet, said: "This visit will deepen friendship, understanding and partnership between the two countries. Warships are also the bridge for enhancing mutual understanding and trust between our people and militaries. "
He announced that the ships will be open for visit to locals and the Chinese naval crew would hold friendly football match with Croatian Naval soldiers.
Chinese Ambassador to Croatia Deng Ying said the visit would open a new chapter of friendship not only for navy of two sides but also for the two countries.
The visit was another proof of the excellent relations between the two countries, Ivo Baldasar, Mayor of Split, said, adding "I hope that this would not be the only visit, but the first of many. "