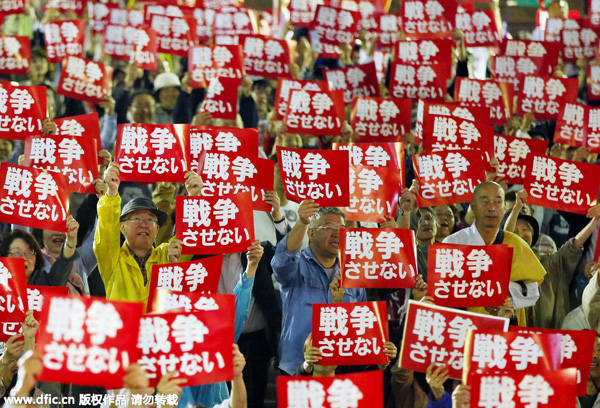 Opponents of planned legislation aimed at changing Japan's exclusively defense-oriented security policy raise placards with the message "(We) will not tolerate war" during a rally in Hibiya Park in Tokyo on the night of May 12, 2015. About 2,800 people took part in the event organized by civic groups in the metropolitan area. [Photo/IC]
TOKYO - A latest poll result showed that about 81.4 percent of respondents think the Japanese government lacks sufficient explanations on the security reform bills which would give Japanese Self Defense Forces (SDF) much greater power, local media reported Sunday.
According to the survey conducted by Japan's Kyodo News Agency during the weekend, only 14.2 percent of the respondents feel the government's explanations are sufficient. On the other hand, 68 percent respondents said the security bills, if passed, will increase the risk of the SDF getting dragged into war, while 26.1 percent expect "no change". Only 2.6 percent said the laws will lower such risk.
The cabinet of Japanese Prime Minister Shinzo Abe approved a package of security bills to enable the SDF to fight abroad in mid- May, marking a major change to Japan's post-war exclusive defense- oriented security policy. The cabinet is seeking passage before July, though facing strong opposition from both Japan and abroad.
The approval rating for the Abe administration was down 2.8 percentage points from the previous survey in April to 49.9 percent. The disapproval rating rose 3.1 percentage points to 38 percent, according to the telephone survey.