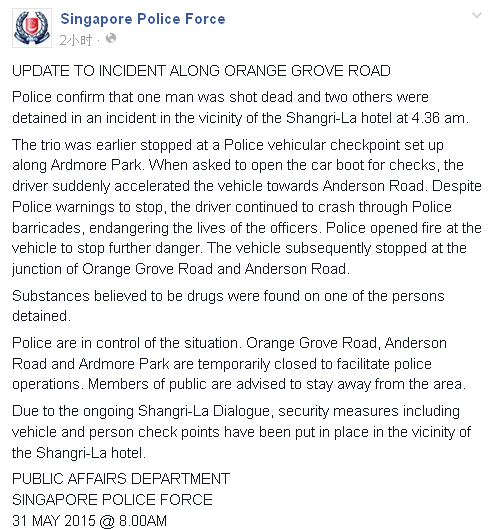 A screenshot from the facebook page of the Singapore Police Force shows their statement on the incident on May 31.
SINGAPORE - One person was shot dead and another two detained after an incident near Shangri-La hotel where the current 14th Shangri-La Dialogue is ongoing on Sunday morning, according to local police.
In a statement on its facebook page, the Singapore Police Force said that they stopped the vehicle, which carries three persons at a police vehicular checkpoint set up along Ardmore Park. When asked to open the car boot for checks, the driver suddenly accelerated the vehicle towards Anderson Road.
It said that police have warned the driver to stop, but the driver continued to crash through Police barricades, endangering the lives of the officers. Therefore, police "opened fire at the vehicle to stop further danger. The vehicle subsequently stopped at the junction of Orange Grove Road and Anderson Road."
Substances believed to be drugs were found on one of the persons arrested, the statement added.
Transportation has been slow due to traffic control near the area. The police said they are in control of the situation.