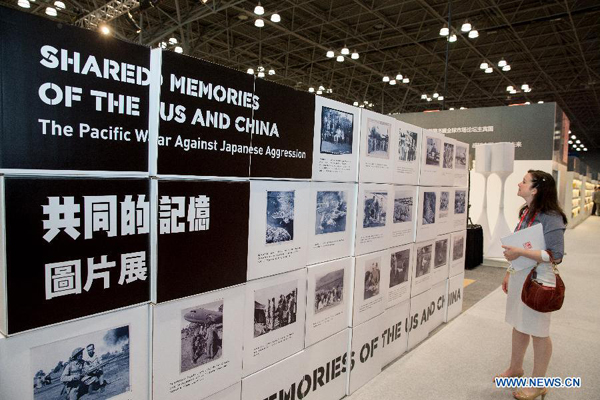 A visitor looks at photos at "Shared Memories of the US and China" photo exhibition during the BookExpo America (BEA) 2015 in New York, the United States, on May 28, 2015. [Photo/Xinhua]
NEW YORK - A book launch and a photo exhibition of the "Shared Memories of the US and China" in fighting side by side in the second World War were held on Thursday as part of the ongoing BookExpo America (BEA) 2015.
"This year marks the 70th anniversary of the victory of the World Anti-Fascist War. Seventy years ago, Chinese and US soldiers and civilians fought side by side for peace in the Pacific Region. Their heroic deeds and daily lives have been preserved and passed on by means of photos and films," said Xu Bu, president of the Foreign Languages Press, at the launch ceremony.
"Today we offer this book and photo exhibition in honor of our fallen heroes, our shared memories and China-US friendship," said Xu.
The book titled "Shared Memories of the US and China: The Pacific War Against Japanese Aggression" contains 260 photos. Both the Chinese and English editions were launched Thursday.
"We have also provided an exhibition of photos for you to learn more about the book, which recalls the history of the two great nations fighting together as comrades-in-arms against Japanese aggressors," said Fang Zhenghui, vice president of China International Publishing Group (CIPG).