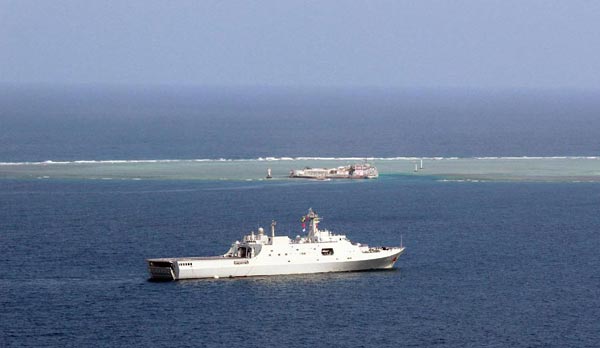 A formation of the Nanhai Fleet of China's Navy on Saturday finished a three-day patrol of the Nansha islands in the South China Sea. [Photo/Xinhua]
BEIJING - China has lodged solemn representations with the United States following a US military jet's reconnaissance in the South China Sea, a Foreign Ministry spokesperson said Monday.
"The close reconnaissance conducted by the US military aircraft of China's maritime features is highly likely to cause miscalculation and untoward incidents in the waters and airspace, and is utterly dangerous and irresponsible. China firmly opposes America's provocation," spokesperson Hua Chunying said at a daily press briefing.
Hua's comments came after some US officials were reported saying that equitable resolution of disputes and freedom of navigation are being challenged by Chinese activities in the South China Sea.
For a long period of time, there has been no problem concerning freedom of navigation and over-flight in the South China Sea, which all countries are entitled to under the international law, Hua said. "Nor will there be any in the future."
China has always valued and safeguarded the freedom and safety of navigation and over-flight in the South China Sea, Hua said.